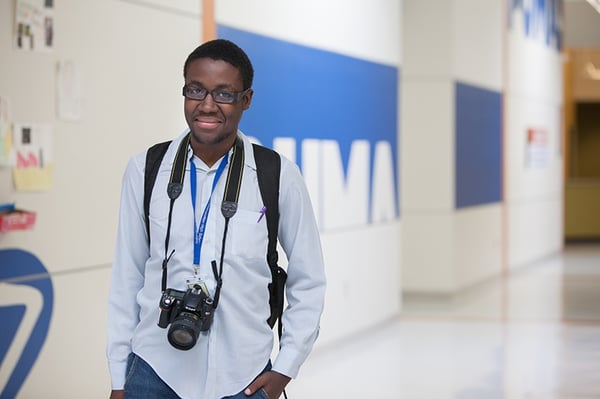 When Chris Pack was preparing to enter high school, his mother, Judy, was concerned that the high school in their neighborhood was not an ideal environment for him. Another parent recommended Indianapolis Metropolitan High School, prompting Judy and Chris to take a tour.
"I like that Indianapolis Met has smaller classes, " Judy said. "It's a family-oriented atmosphere."
His freshman year, Chris joined the track and field team — an experience that had a lasting impact.
"It allowed me to open up and show
my personality," he said. "I loved the team environment and wanted to become involved in more activities."
He joined the robotics team and took on the role of videographer for the boy's basketball team. Chris is also the editor-in-chief of the school newspaper, gaining valuable experience in graphic design, his primary field of interest.
"He was instrumental in getting the newspaper started," said Shelly Bright, Math Teacher at Indianapolis Metropolitan High School. "He and another student wrote all the stories, took all the photos, laid out the content and got it printed."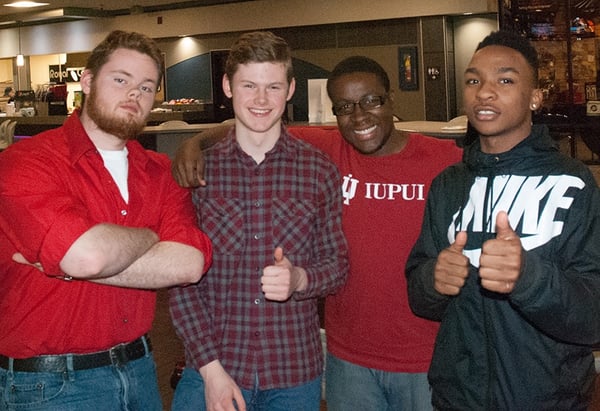 With a 4.147 GPA, Chris has also led his class academically all four years of high school. Additionally, he has earned college credits taking courses at IUPUI, even earning a perfect score on one of his final exams.
"Chris was always a good student, but Indianapolis Met allowed him to excel in other areas as well," Judy said.
Chris will enroll in college this fall to pursue a visual communications degree. Ultimately, he hopes to work for ESPN or Paper Leaf, a graphic design company.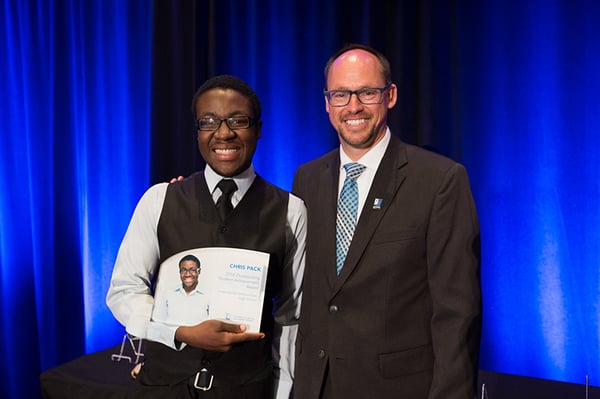 "Chris's maturity, intelligence and kindness make him a role model to other students," Shelly said. "They see his success and want to emulate it."
Chris emphasized that Indianapolis Metropolitan High School is different in its approach to education than what he previously experienced.
"The staff at Indianapolis Met cares about your future," he said. "They aren't just trying to get you to graduation. They help you plan for college and a career."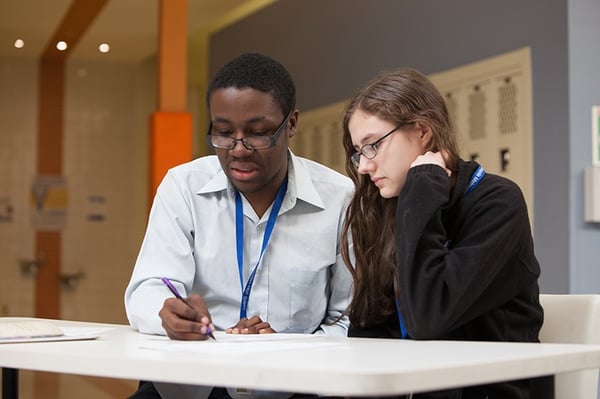 As a result of his experiences at Indianapolis Metropolitan High School, Chris considers himself more well-rounded and prepared to deal with life's challenges.
"Through all the struggles I experienced I learned how to become more resilient, determined and faithful in my beliefs," Chris said.