Patrick Gnall began his relationship with Goodwill as a wares producer at the Fishers store. Social anxiety limited his position and growth options there, so he was under-performing and not finding much satisfaction in his work. Patrick reached out to an expert adviser, called a Goodwill Guide, to whom each store's employees have access. Guides help our employees identify and set goals, increase their education, improve their finances, earn industry-recognized certifications for in-demand fields and more. When an employee is ready, Guides even help them find higher-wage jobs within and outside of Goodwill.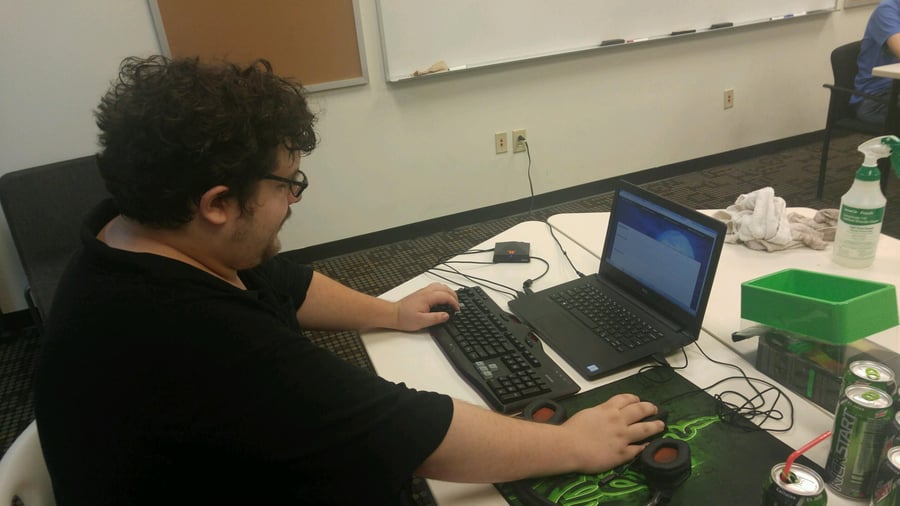 A Guide worked with Patrick to identify his strengths and passions. The Guide visited him at home to get to know him better and learned he was currently living with his grandmother. His grandmother shared that she wanted to rest easy knowing her grandson would be able to support himself. His Goodwill Guide kept this consideration in mind and began exploring a better job fit with Patrick, soon learning he had a strong interest and skill with computers.
With support and encouragement from his Guide, Patrick took an education assessment test -- with an accommodation so that his social anxiety didn't affect his score. He did well and enrolled in a class to earn the CompTIA A+ certification, an entry-level computer certification for personal computer service technicians. After passing the class' test standards, he was eligible to take the official certification test. Before he did that, he decided to pursue an internship with Goodwill Education Initiatives (GEI). He interviewed for and earned the GEI data internship, where he continues to make great strides.
Patrick is now a candidate to receive funding to attend the Eleven Fifty Academy, a non-profit organization, aiming to close the gap in the nation's technology skills. Attending this school would allow Patrick to grow his knowledge in coding, an in-demand skill set. Patrick and his Guide identified a career in coding as an ideal fit, combining his passion with a role that minimizes his challenges in communicating effectively. It would also greatly enhance his ability to earn an income that would allow him economic self-sufficient — a goal Goodwill holds for any employee.
After seeking out support from Goodwill Guides and putting in the effort to improve his circumstances, Patrick is now more encouraged and excited for his day-to-day work, his grandmother is far less worried and his Guide is happy Patrick set, met and continues to work on his goals and has found an employment fit.
If you have a passion for helping others find their career fit or have had an interest in working in a nonprofit job, explore our open positions
online
.