Edward Rickenbach, Manager of Goodwill's Guides program, discusses how his team works with our retail employees, providing career and life coaching services to help them increase their independence and reach their potential.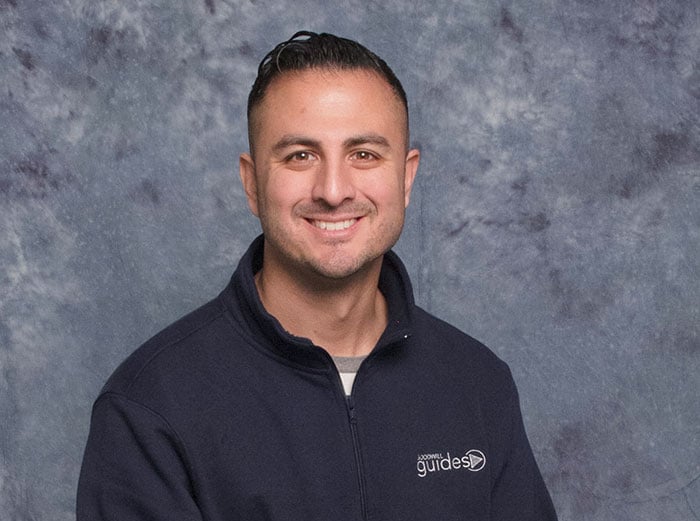 What kind of services do you offer to Goodwill employees?
Guides help Goodwill employees become economically self-sufficient by connecting them with higher paying careers, both inside and outside of Goodwill. If they don't have a skill set, we help them enroll in school and apply for financial aid to pay for it. Guides teach financial literacy, budgeting, retirement planning and credit maintenance. We also help remove day-to-day barriers like transportation, child care, housing and lack of food by connecting clients with internal and external resources.
Describe one of your most memorable clients.
I worked with a young woman who wanted to go to school but had three barriers: she lacked child care, had failed a previous entrance exam and was afraid she couldn't pass, and didn't know how she would pay for it. Through a grant, we were able to cover her daycare through the summer. We directed her to resources to study independently for the entrance exam, which she passed. We also helped her apply for financial aid, where her education at Ivy Tech is completely funded by state and federal grants. The grants provide enough to help her with child care as well. She is currently maintaining a 98% in all of her classes.
What do you enjoy most about your work?
Witnessing clients transition into a pattern of long-term behavioral change, and managing challenges independent of the program.

How many Goodwill employees have you
worked with?
I carry about 60 employees on my caseload at a time and have worked with about 200 over the last two-and-a-half years. I serve a region with 400-600 employees who are not receiving coaching services but who need information or to be connected to community resources.
How do you identify clients?
We build relationships by starting conversations and trying to relate to what they're interested in, while also letting them know what we do. They come to us when they're ready. We know our clients are invested because they're willing to meet us outside of the store on their
own time. We maintain that trust by being consistent
and patient.