Erik Caldwell moved back to Crawfordsville three years ago to help his dad through some difficult life circumstances. He applied for a job at the local Goodwill store, expecting it to be temporary, but remains a valuable associate today, staying longer than he ever planned.
Erik is a great fit at Goodwill. In addition to his steady work ethic, Erik brings a positive attitude and great customer service to the donation door. He finds it easy to work with everyone because they all have a clear, team-oriented mindset and are always willing to lend a helping hand. Erik also enjoys the variety of tasks in his job. It isn't the same thing day-after-day.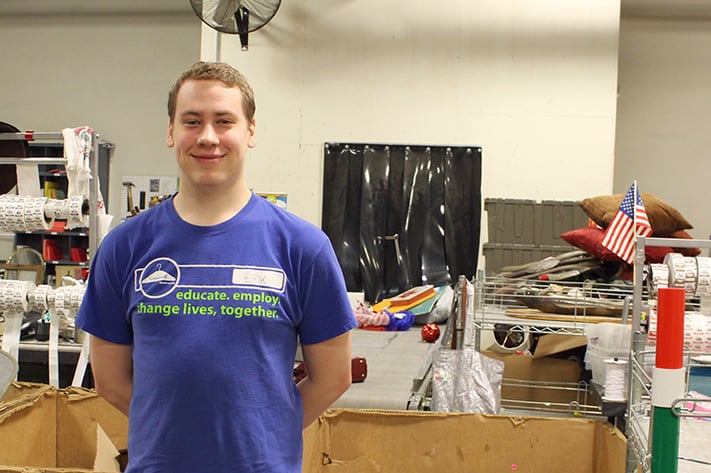 "You are always able to go home and say, 'You're not going to believe what we got in today,' said Erik.
When Erik started with Goodwill, he knew he wanted to grow in his career, but he had no idea where to start. After a year on the job, he was introduced to the store's Goodwill Guide. His Guide started helping him navigate finances, including creating a budget and introducing him to programs that help track spending.
"I needed that. I needed a Guide to show me what resources were available, how to procure them and how to utilize those resources to keep moving forward," said Erik.
His Guide walked him through different career paths and the education that would be required for each. Erik took the TABE test (Tests of Adult Basic Education) which qualified him for funding to take a Medical Billing and Coding course.
"Even when we ran into some hiccups in the process, my Guide helped me stay on track," said Erik.
The next hurdle was signing up for classes. The class at his local community college was repeatedly canceled due to lack of students. Finally, after several attempts at the traditional course, Erik enrolled in an online Medical Billing and Coding course in February of 2017.
"If you are having any kind of setback, whether it be with pursuing an education or managing your finances, I would say, work with your Goodwill Guide," Erik said. "The organization is really there to help you."
Think Goodwill might be a good fit for you or someone you know? Check out our open career opportunities and apply online.