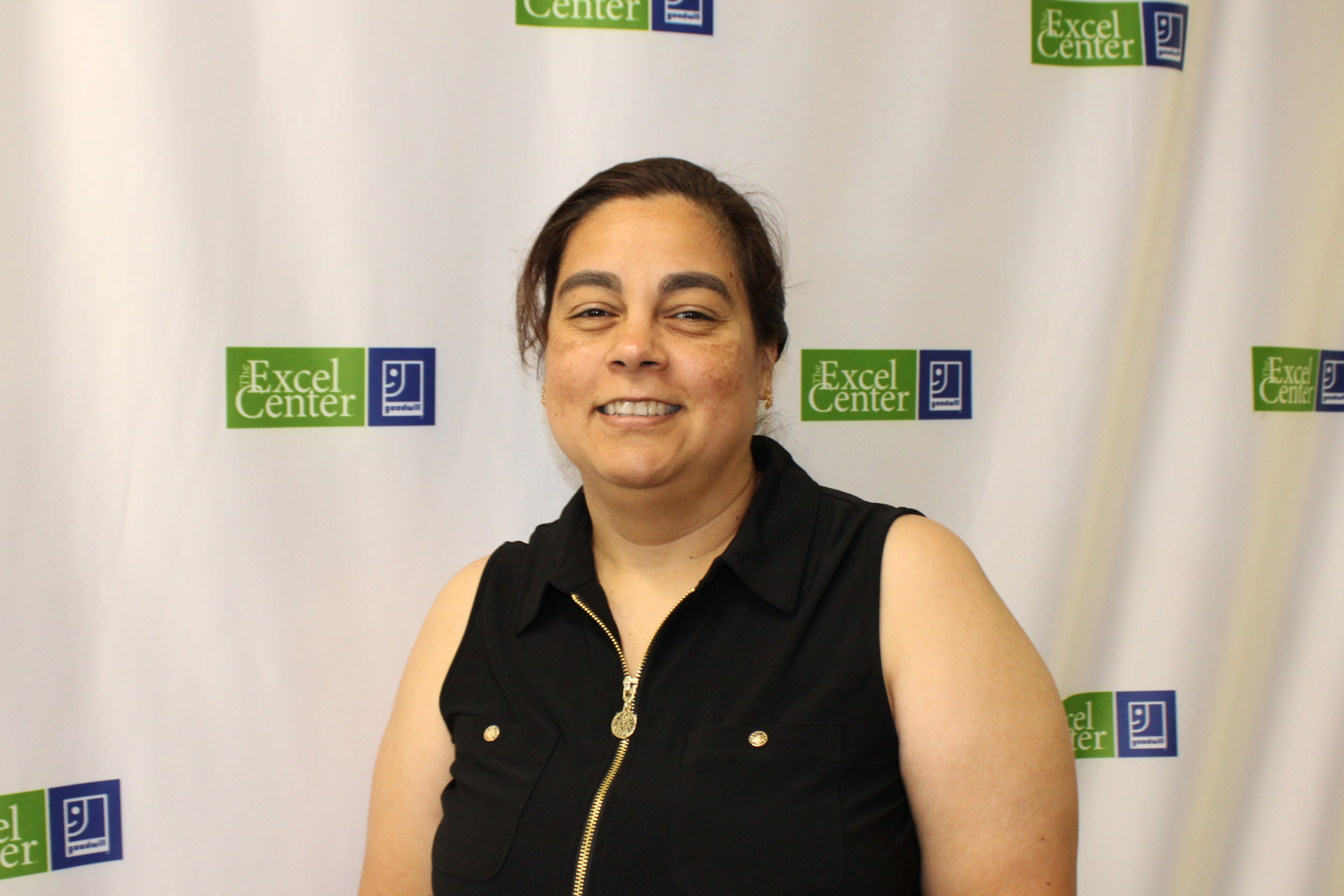 Laura Torres moved to Indiana at 22 years old without an education and spoke only Spanish. Today, Laura speaks fluent English, is finishing her high school diploma through The Excel Center®, Goodwill's tuition-free high school for adults, and is pursuing a degree in psychology after she graduates.
At 18, Laura was living in California feeling lost as she was experiencing abuse and stopped attending school to help cover costs at home. She tried restarting her education but balancing a full-time job and school simultaneously became difficult.
She moved with her two daughters for her husband's job to Indiana in 1999 where Laura felt out of place in a new state. In California, she was free to speak Spanish with many who also spoke the language; however, most of the population spoke English in her town.
Laura got a job and then started taking English classes in the basement of her church so she could communicate with others, but she could not always find people with which to practice speaking, slowing her learning process.
At 31, Laura started having panic attacks and experiencing depression, so she sought out therapy. During her sessions she started using an interpreter, but she transitioned to speaking with her therapist directly in English to push herself to learn.
As Laura continued working, one of her co-workers mentioned learning English while earning a Core 40 high school diploma through The Excel Center. She attended orientation in September 2019, and within a few days, Laura started classes, deciding to quit her job to fully focus on her education.
"A long time ago, I opened the door to intuition, and I have let myself be carried away by it," said Laura. "I am so glad that opportunity led me to The Excel Center, where adults can complete their education and learn even more beyond the classroom because of it."
Continuing to experience depression and anxiety, Laura started to attend leadership classes and learned about Bioneuroemotion, which combines biology, neuroscience, genetics and psychology to change one's negative perception of events. As she studied the subject, it helped her get to know about herself more, stopping the panic attacks she was experiencing.
Laura has grown more confident in herself. She can speak English fluently, has worked through her anxiety and depression and developed a knowledge and passion for psychology in the process.
"I had no idea that I could finish high school or go to college. I had no idea what I could accomplish," said Laura.
As Laura finalizes her high school education, she plans to pursue a career in psychology taking Ivy Tech courses this fall through The Excel Center as well.
"I seized opportunities to better my life," said Laura. "The Excel Center gave me the tools I needed to succeed, and I am open to studying as much as I can."