Sarah Verhines graduated from The Excel Center®, Goodwill's high school for adults, in January 2020 at 26 years old while working full time and expecting her first child. Even though she was top 15 in her original high school class, circumstances beyond her control prevented her from graduating.
Sarah was diagnosed with narcolepsy at 13 years old, making it difficult for her to regularly attend classes. Because of her diagnosis, Sarah dropped out of high school in 2013, just one semester before graduating.
Years later, Sarah's mental health was suffering due to a car accident and a desire for more meaningful work outside the home, so when The Excel Center staff knocked on her door and encouraged her to finish her education, Sarah took advantage of the opportunity and went back to high school at The Excel Center.
"It really did light my fire. It was the beginning of me actually picking myself back up and figuring out where to go and what to do," said Sarah.
In July 2019, Sarah began taking classes at The Excel Center and was able to pick up where she left off with all of her credits transferring from her previous high school. The Excel Center also offers free life coaching to help students stay on track for graduation and prepare for life's next steps, in which Sarah participated.
"The Excel Center staff really does try to conquer every barrier. Teachers and coaches have put in extra time to make sure students are successful," said Sarah. "They prioritize your education alongside you as a student."
Sarah graduated from The Excel Center in January 2020, and 15 days later she had her first child, Mary. Sarah was referred to Goodwill of Central and Southern Indiana's Nurse-Family Partnership®, which supports mothers and families expecting their first child by pairing them with a registered nurse for ongoing home visits and aid.
"It wasn't just me anymore. I had to put my best foot forward for somebody else," said Sarah.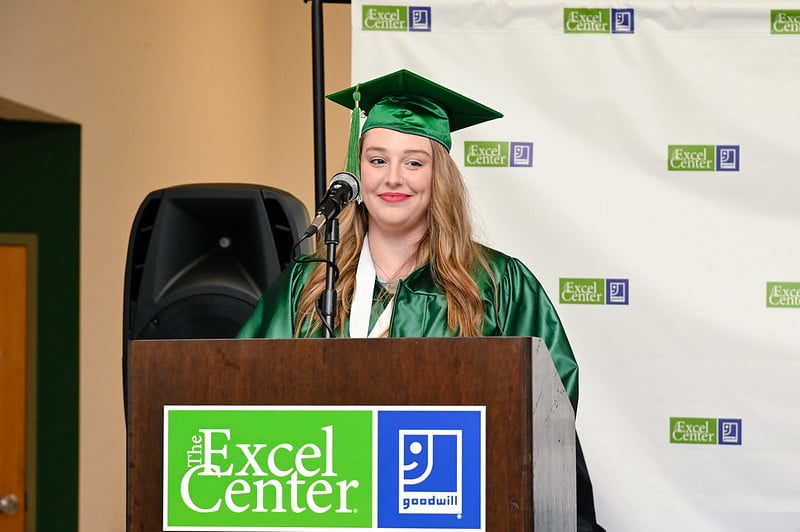 Her nurse regularly visits her home to provide advice, guidance and support to both Sarah and Mary. Even during the pandemic when they could not meet in person, Sarah's nurse continued to support her, giving her gift baskets that included necessary items such as diapers. She was connected with a counselor through the program as well.
"[Nurse-Family Partnership] helped me be a mom and gave me the validation to know that I was working my hardest and doing my best no matter what anyone else said," said Sarah.
Today, Sarah is fully supporting herself and her daughter and plans to buy her own house within the next year. She continues to see a counselor and pushes herself everyday to grow.
Sarah recently began attending Ivy Tech Community College and is pursuing a business degree.