Dequan Bennett is a great example of someone making huge strides toward reaching their goals after being given the right tools and support. He just celebrated one year as a Flooring Installer Apprentice at Jack Laurie Group, one of Goodwill's employment partners. At Jack Laurie Group he is learning the finer points of floor installation — which tools to use, what detailing cuts for what measurements, and more. Dequan is also taking control of his finances using tools he learned from working with his Goodwill Guide.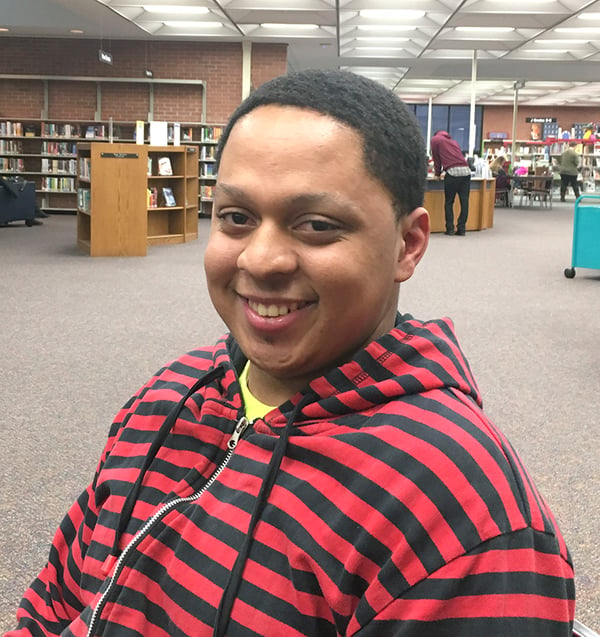 Dequan started working with his Guide while he was a full-time Wares Producer at a Goodwill store in 2013. He also worked a second part-time job. Despite working constantly he found himself still living paycheck-to-paycheck. Financial debt was the bulk of his problem when it came to never feeling like he could get ahead. Josh Kupke, his Goodwill Guide, helped Dequan set debt-reduction as a goal. Josh challenged Dequan to the "PB&J Challenge" — lunch would be a sandwich each day in lieu of spending money on fast-food. Dequan agreed to the challenge and saved over $150.
Seeing how easily $150 could be carved out of his expenses really inspired Dequan to take even more control of his finances. Over the next 18 months, he learned how to establish and follow a budget, increased his credit score, paid off two debts and established an emergency fund of $1000.
"I always wanted to get out of debt and start saving but didn't know where to begin," Dequan said. "I appreciate Goodwill Guides and the Goodwill Young Leaders Board for the Savings Match program. It helped me start saving and keep saving."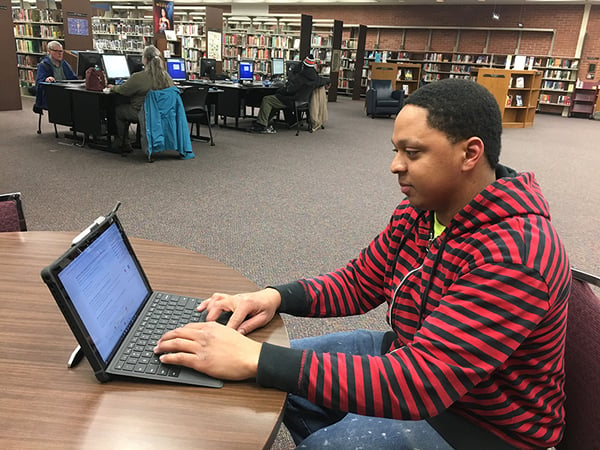 Dequan quickly learned to take advantage of all that being a Goodwill employee offered. While working with his Guide, he tapped into a job placement service at Goodwill known as TalentSource™. He was assisted with creating a resume, mock interviewing and setting career goals. His hard work and continued improvement paid off when he was selected for an Internship Program with Jack Laurie Group. Now that he's been hired on, he is continuing his education for free.
Employees at Jack Laurie Group can earn an associate's degree from Vincennes University and eventually earn their Journeyman's Certificate. Dequan is the first Goodwill candidate to work at Jack Laurie Group, and he has set a high bar. His Field Superintendent, David E. Casey, gives him high praise.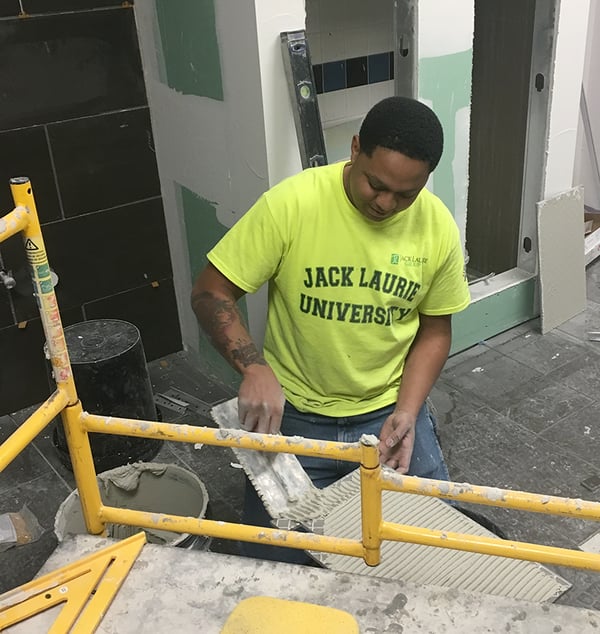 "Dequan has been a great addition to the team. He is quiet, punctual and hardworking. He is a quick learner and a good tile apprentice. He is always smiling. He never complains to me, no matter how daunting the task assigned to him," David said. "This year he was chosen to be in the second group of students to attend Jack Laurie University. I have high hopes for Dequan. Not only for his future with the Jack Laurie Group, but also for his development as a young man in the flooring industry."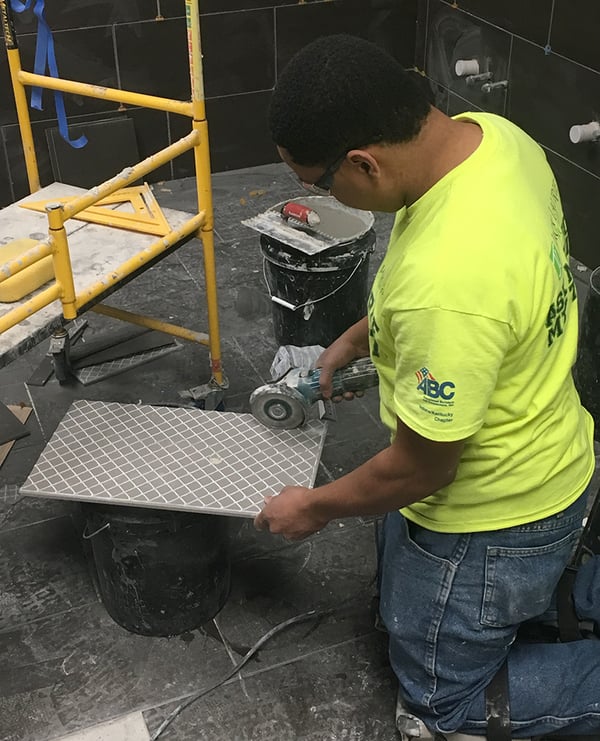 Life for Dequan has changed drastically over the past year. He put in hard work at Goodwill as an employee and with his Goodwill Guide, TalentSource and Jack Laurie Group. He is still working more than 60 hours a week, but doesn't feel like the wheels are just spinning anymore. He is pursuing an associate's degree and aggressively paying off debt.
"Life is much different than it was a year ago," Dequan said. "I finally believe I can become debt-free, earn a degree and have a really great career, all at the same time!"