Goodwill Young Leaders is comprised of professionals with diverse backgrounds and experiences who support and promote Goodwill's mission services in central and southern Indiana. They receive in depth tours of Goodwill behind the scenes and learn what Goodwill does and why it is so much more than a Goodwill Store. One of our newest Young Leaders is Gita Turnbull. We took a moment to ask her a little about her experience so far.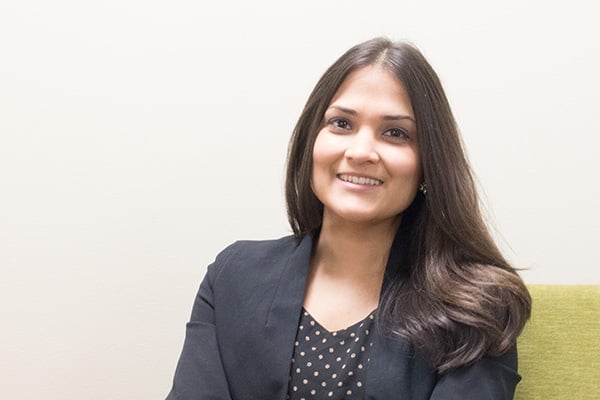 How did you learn about GWYL? My employer, Sullivan Commercial, works with Goodwills across the U.S., constructing their new retail sites. About 18 months ago, I was prompted by a Goodwill of Central & Southern Indiana employee to do a tour of their operations and to consider joining GWYL.
What motivated you to get involved with GWYL?
I was not only impressed with the depth and breadth of programs and services offered through Goodwill, but I also support their approach of identifying challenges within the communities they serve and creating wrap-around services for the individuals who could benefit most from them. Goodwill has a great mission. I'm proud to be a part of it and to help the community learn more about it.
What's your favorite part about your role as a GWYL? I enjoy direct interaction with program participants like performing mock interviews with students from The Excel Center® and Indy Met and coaching them on how to secure a job in the future. It's great to see first-hand the impact of our work. The students are incredibly impressive, goal-oriented and focused on their futures.
What would you say to someone who asks, 'Why should I give to Goodwill?' Your donations stay in your local community and serve your neighbors, directly impacting the success of your community as a whole, and indirectly, your own success. We all benefit from prosperous, thriving communities.
What is happening with GWYL today and what do you have planned for the future? For the first time, we created an Innovation Grant and a process for Goodwill service providers to apply in furtherance of their mission area. We also have committees that focus on specific areas with the goal of spreading awareness about the mission and attracting philanthropic giving through expanded donation drives, donor events and volunteerism. For the future, we are working to partner with other Young Professionals groups to support each other and to more aggressively seek corporate funding sources.
How does someone become a GWYL? We're always looking for motivated individuals aged 25-40 to join us in growing the mission. Applicants begin by scheduling a tour with the Foundation to understand the scope of Goodwill, and then are connected with a GWYL to choose a committee.