February is Black History Month, and Goodwill of Central and Southern Indiana is proud and excited to celebrate its Black and African American leaders, mission participants and students. Shannon E.G. Brown is a shining example of a strong, inspiring leader who joined Goodwill Education Initiatives nearly three years ago.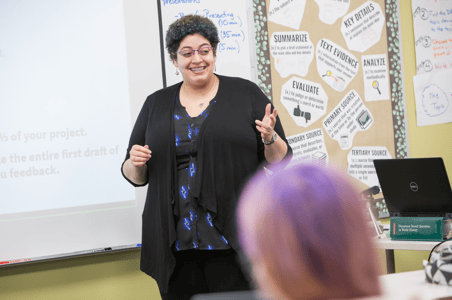 As Assistant Principal at Indianapolis Metropolitan High School, Goodwill's high school for traditional-age students, Shannon is best-known for her ability to work with and support students and staff alike.
"I love working with both students and educators," Brown said. "I especially love seeing our students succeed, whatever that means to them."
Indianapolis Met High School is a best-fit school for students experiencing barriers to education. Students who enroll at Indy Met may be facing homelessness, teen pregnancy or parenting, involvement in foster care, exposure to the criminal justice system or multiple enrollments at other schools.
"I love what I do, but compassion fatigue and secondary trauma are definitely real," Brown said. "Figuring out things that make me, me… and making time for self care… are incredibly important in this work."
In addition to ensuring students graduate with a college and/or career pathway, Indy Met offers unique wraparound supports for students and their families, including free, onsite child care, transportation assistance and family empowerment coaching.
Recently, the Indianapolis Mayor's Office of Education Innovation (OEI) announced Brown as High School Teacher of the Year at the 2021 Teach Indy Educator Awards. With over 10 years of experience in the education field, Brown is well-positioned to support young Puma students and the talented Indy Met staff.
"I work with the administration team to make sure that all parts of Indy Met are running smoothly," Brown said. "I enjoy ensuring that all teams have what they need to help students and their families work through barriers and provide a great education."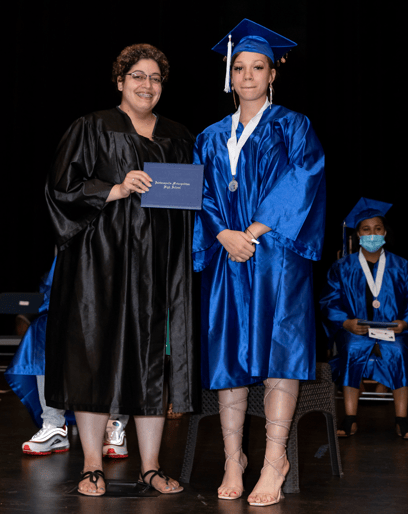 Over 55% of the Indy Met student population identifies as Black or African American. Celebrating and recognizing dates of significance like Black History Month is important to both students and school administrators.
"Black History Month, to me, is a chance to reflect on the joys and successes of my Black ancestors," Brown said. "As a mixed-race Black woman, it's a chance for me to celebrate my Black heritage and talk about issues that are important to me."
Brown says that now is especially a time to celebrate and reflect on the importance of Black culture and influence.
"For Black History Month and beyond, we should celebrate Black people and Black joy," Brown said. "Take time to read, listen and learn from Black creators, writers and storytellers."
Thank you, Shannon Brown, for being a student and staff advocate at Indy Met! We are thankful for your leadership and dedication to the Goodwill mission.