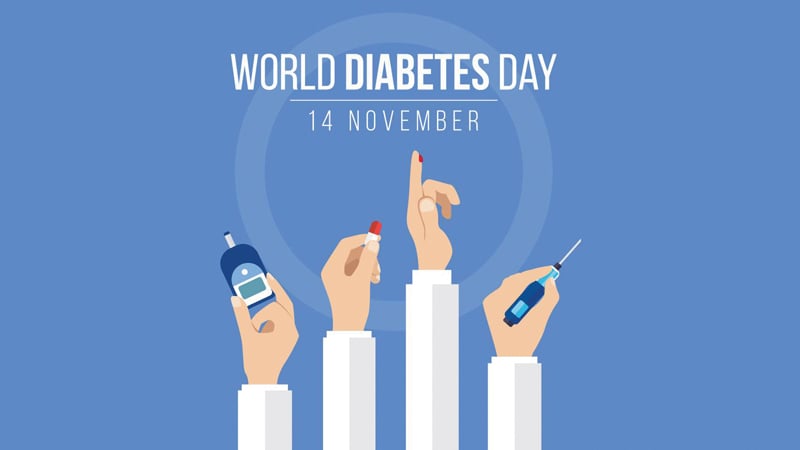 World Diabetes Day provides an opportunity to bring awareness of knowing your risk of type 2 diabetes and the impact diabetes has on individuals. 1 in 10 adults worldwide (1 in 5 Americans) have diabetes and close to half are not yet diagnosed. Take the American Diabetes Association Diabetes Risk Test to see if you are at risk for type 2 diabetes. Diabetes can cause damage to your eyes, kidneys, nerves, and heart, and it is linked to some types of cancers. Here are six tips in taking charge of your health to prevent diabetes health problems.
Manage your blood glucose, blood pressure, and cholesterol levels with ABCs in mind.
A is for the A1c test which measures your average blood glucose levels. The A1C goal for many people with diabetes is below 7.
B is for blood pressure. High blood pressure causes the heart to work too hard. It can cause a heart attack, stroke, and damage to your kidneys and eyes.
C is for Cholesterol. Your cholesterol numbers may be different from other people. If you are over 40 you may need to take a statin drug for heart health.
Be sure to ask your health care team what your ABCs goals should be.
Take small steps toward healthy habits
Start slow and build healthier habits such as eating healthy, being active, not smoking, and getting enough sleep. You don't have to do it all at once. Remember to start slow and build on healthier habits.
Take your medicines on time
Even when you feel healthy, continue to take your medication. Talk with your doctor or pharmacist if you are having trouble taking your medication.
Healthy weight
Reach and maintain a healthy weight. Ask your health care provider for help if you need it.
Mental health
Learn about healthy ways to cope with stress. Managing diabetes is not easy.
Health care team
It takes a team to manage diabetes. Talk with your primary care provider to see if you should talk with other professionals about your diabetes.
Remember you are the most important member of your health care team and to ask your health care team for help.
Crystal O'Donnell is Goodwill's manager of population health and wellness.