When Melissa Lebo started her career at Goodwill of Central & Southern Indiana in 2015, she had been out of the criminal justice system for four months. As she reentered the workforce, she was unsure of how far she could go in her career and personal life. Little did she know, Goodwill's wraparound services and programs were ready to help her achieve her goals.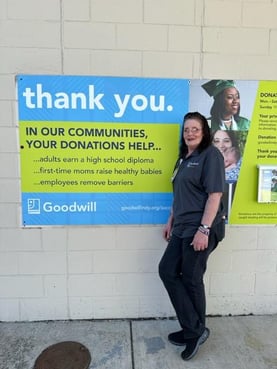 For seven years, Melissa was a functioning methamphetamine user. After her partner passed away, her substance use disorder spiraled, leading to her involvement with the criminal justice system.
While incarcerated, she became sober and maintained sobriety throughout her four-year sentence. Afterward, she struggled to find employment until she was given a second chance at Goodwill.
As she became accustomed to her role as a part-time retail associate, Melissa gained the skills, knowledge and confidence to lead others at work and in the recovery community. Within six months, she had been promoted to a full-time position and became a Team Lead.
"From there, it is a blur, but I do remember the people," said Melissa. "To me, Goodwill is all about the people."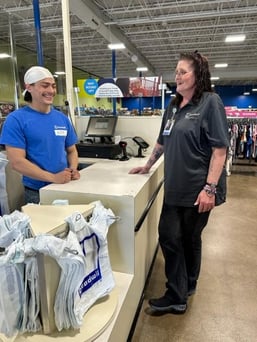 As she progressed professionally, her coworkers and managers didn't judge her for who she was and became her trusted colleagues. She received support from not only her coworkers but also from Goodwill Mission Coaches, a program that provides free career and life coaching to Goodwill employees to improve their financial health and increase their self-sufficiency.
With the support of her Mission Coach, Melissa created a budget, pulled her credit reports and documented her net worth. As a result of this work, her net income and credit score increased and in 2021, she earned another promotion, becoming the site lead of a Goodwill store, where she can now help others accomplish their goals.
After she became a site lead, she decided to start and lead her own meeting for Recover Out Loud (ROL), sponsoring a number of individuals through their substance use recovery. She has also recently become the co-chair for Renegades Recovery of Indiana.
"Every step of the way, I gained friends and support, even while I doubted myself most of the time," said Melissa. "I just kept thinking that if all these people believed in me, then I didn't want to let them or myself down."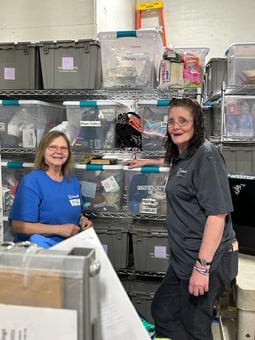 However, her journey wasn't without challenges to overcome. Melissa became embroiled in a toxic marriage, which would take a toll on her life and her housing situation.
"I wanted to leave [the relationship] many times, but with a felony conviction, I didn't know where I would go," Melissa said.
In September 2022, she finalized her divorce and closed on a house – and since then, she has accomplished so much more. Currently, Melissa is active in her church and the recovery community. This year, she celebrated 13 years of sobriety.
"I am grateful for all the opportunities every day," said Melissa. "But they are only possible because Goodwill saved my life and gave it back to me."