The Goodwill of Central & Southern Indiana Senior Community Service Employment Program (SCSEP) has remained steadfast in connecting program participants ages 55+ with paid, on-the-job training opportunities from local community partners and within Goodwill's network. These opportunities reintroduce them to the workforce, allow them to practice new skills and open doors for potential career paths. In the first quarter of SCSEP's 2022 program year, seven participants obtained employment at their training site.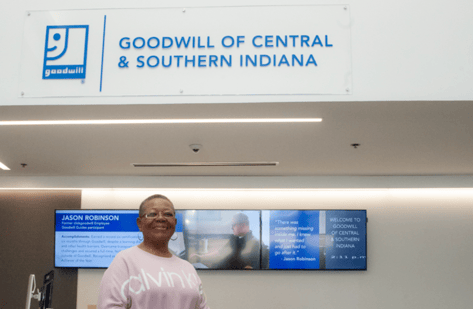 While community partners train many participants, programs within Goodwill's network have also provided invaluable experiences for SCSEP participants that led to gainful employment. In January, two SCSEP participants were hired through Goodwill's Janitorial Training Program (JTP), designed for individuals with barriers to employment who may be interested in commercial janitorial or housekeeping work. JTP supervisor, Darrin Haynes, has become accustomed to quality job candidates.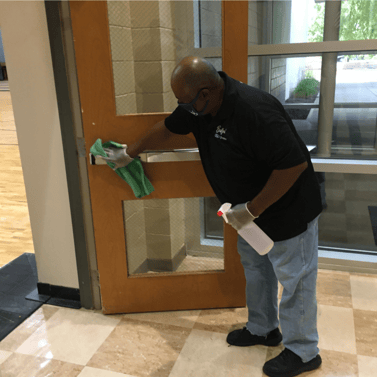 "SCSEP participants have work ethic. They're motivated and have great attendance," said Darrin.
Working with SCSEP participants throughout training has been beneficial for both participant and supervisor. By training them over a period of time, Darrin can get to know each SCSEP participant personally and accommodate any barriers they may face.
"Since participants have experience and work ethic, I have no problem molding a position to meet their needs," said Darrin.
A Goodwill retail store at West Washington has also had recent success hiring a SCSEP participant.
"He quickly built positive relationships with fellow employees and customers as a door greeter," said Stephanie Carney, the store's site leader. "He was eager to learn other parts of the store and expand his knowledge," Stephanie said.
This participant not only had excellent customer service skills but also kept the store organized. Stephanie shares the same sentiment as Darrin regarding the experience SCSEP participants have to offer.
The people who participate in SCSEP bring wisdom, experience and resiliency to the workplace, which are traits that employers will continue to value. Although SCSEP partners with many agencies outside of the Goodwill network, partnerships within are unique in that they highlight how Goodwill continues to change lives through employment every day by investing in an individual's potential.