When Jefferson Jones applied for Goodwill of Central and Southern Indiana's Senior Community Service Employment Program (SCSEP), he didn't quite know what he would be getting into. Jefferson knew that SCSEP partnered with nonprofits and worked with people like himself in his community. However, he didn't know how much he would love this new training opportunity.
Goodwill's SCSEP provides opportunities for older workers ages 55+ to participate in paid, on-the-job training that will reintroduce them to the workforce and open doors for potential career opportunities. Program participants work closely with SCSEP staff, including a coach who helps them learn and practice new skills while helping participants advance to regular employment. For Jefferson, SCSEP's support secured him a position with a community partner, where he can indulge in his passion of helping people.
"I have to help people," said Jefferson. "This job is my favorite job I've ever had. I like working with the children, elderly and people with disabilities that come in to get help."
Jefferson has and still faces many barriers in life, but he doesn't like to focus on hardships. He likes to focus on how he can overcome those barriers and move forward from them. For example, Jefferson was not able to receive an education past the 8th grade.
"It was hard for me because my children had asked at some point, and I had to be honest with them that I didn't have a high school education," said Jefferson. "Being open and honest with my children is the most important thing for me."
Along with a lack of formal education, Jefferson has experienced the justice system. Because of this, Jefferson was worried about how he would be treated reentering the job market. To Jefferson's surprise, he was welcomed with open arms.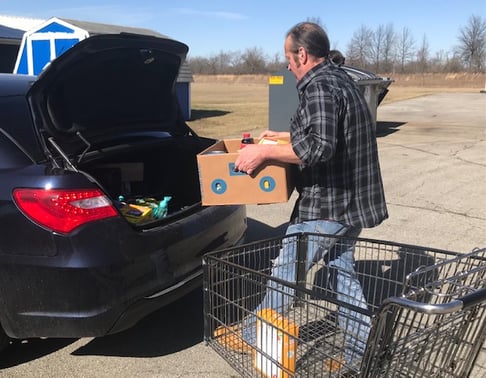 Neither Goodwill's SCSEP and his current employer have ever made Jefferson feel less than for his past. His supervisors appreciate all that Jefferson brings to the nonprofit, like his strong work ethic, his passion for helping others and the positive impact he has on his colleagues and clients.
Jefferson is thankful for SCSEP for many reasons. He is training, learning, and growing at a nonprofit that he loves. He's able to help people in his community on a daily basis. While engaging in his passion, Jefferson can save up his income and work towards getting a truck for himself.
As Jefferson participates in SCSEP, he strives to keep moving forward and breaking down barriers for others.
"You've got to have compassion and do what you do with a sincere heart," Jefferson said. "We are all going to mess up and make mistakes, but it happens. We are all human. We are all our own individuals."