In 1929, Helen Krebs Barth boarded a trolley in New Albany, Indiana. She was headed to Louisville, Kentucky to see a speech by Rev. Edgar J. Helms, the Methodist minister who had founded Goodwill in Boston nearly 30 years earlier. Rev. Helms was spreading the message of Goodwill and encouraging people to develop operations in their own struggling communities.
It was here that Mrs. Barth met Rev. William Bartle, a pastor at a church in New Albany, who had boarded the same trolley, also heading to see Rev. Helms. Together in 1930, Mrs. Barth and Rev. Bartle founded Goodwill Industries of Southern Indiana with 13 employees. Mrs. Barth could often be found there, sorting donations. She passed on her spirit of volunteerism to her daughters and grandchildren.
In fact, every year since Goodwill was incorporated in southern Indiana nearly 90 years ago, someone from Mrs. Barth's family has served on the board of directors. Ten years ago, the torch was passed to Elizabeth Hilbrich, her great-granddaughter.
"My grandmother would say, 'Never have a garage sale, when you can give to Goodwill,' so my family would make several hauls a year," Elizabeth said. "In addition, financial donations support Goodwill in ways that retail revenues cannot, because they enable the organization to grow, innovate and adjust to the needs of the people it serves."
Mrs. Barth's family has witnessed the evolution of her vision, including a merger with Goodwill Industries of Central Indiana in 2017. The combined entity — Goodwill of Central & Southern Indiana — now includes more than 70 retail stores and serves thousands of Hoosiers each year.
"The mission today is beyond anything my great-grandmother could have imagined," Elizabeth said. "The merger brought an adult high school to southern Indiana, expanded employment opportunities and Nurse-Family Partnership, a program for first-time, low-income moms. I'm amazed with the leadership at Goodwill and honored to be able to continue my family's tradition."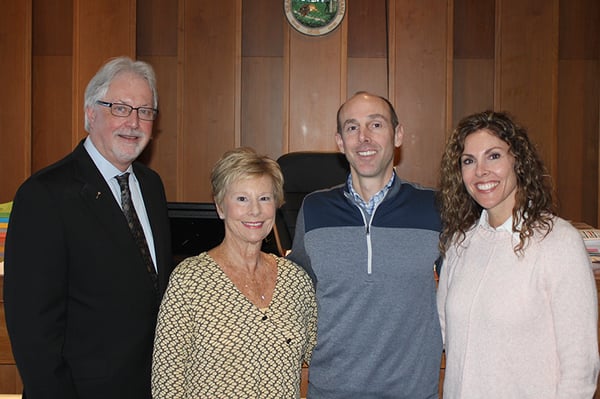 Descendants of Helen Krebs Barth, all former or current members of Goodwill's Board of Directors. From left to right: The Honorable J. Terrence Cody (grandson), Meri Anderson Krebs (granddaughter), Allen Anderson Krebs (great-grandson), and Elizabeth Anderson Krebs Hilbrich (great-granddaughter).
More Ways to Get Involved
Make a financial gift
Organize a donation drive and receive Goodwill vouchers
Refer people to Goodwill for a job, program or other service
Shop online at clickgoodwill.com
Subscribe to our blog: blog.goodwillindy.org