The week of August 25-31, 2019 marked the celebration of Black Breastfeeding Week, a national campaign dedicated to bringing awareness to the nationwide racial disparity in breastfeeding rates. The week focuses on promoting the positive effects that breastfeeding has on an infant's health and reduction in infant mortality rates, which affects black infants at a higher rate than whites.
Goodwill's Nurse-Family Partnership®, a program that pairs first-time mothers with a registered nurse, supported Black Breastfeeding Week in the Lake County area by working with community partners to provide breastfeeding information, onsite counseling with a Certified Lactation Counselor and free breastfeeding supplies at public events throughout the week.
"Nurse-Family Partnership wanted to help bring awareness to this issue in our communities by helping to educate all moms, no matter their race," said Nurse Supervisor Tameka Warren. "We wanted to show support of every single mom by offering breastfeeding educational resources."
Nurse-Family Partnership set-up information booths and provided supportive services at Marram Health Center in Gary, Healthy East Chicago and the Women's Care Center in Hammond.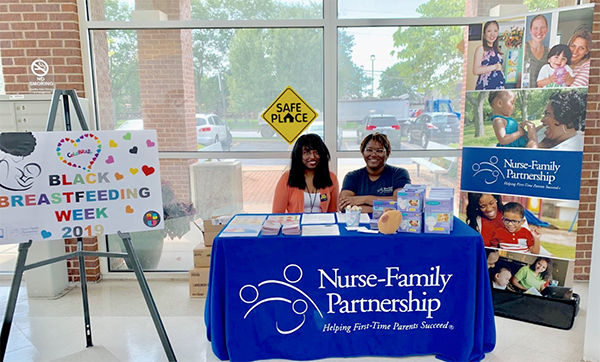 "We are grateful to our community partners for allowing us the opportunity to bring awareness to the relationship between breastfeeding and black infant mortality," said Warren. "Breastfeeding also leads to better child digestion, production of antibodies and reduced risk of infections and childhood obesity."
Nurse-Family Partnership is proud to work with other local organizations to bring information into our communities in an effort to improve the overall health and wellness of mothers, children and their families.
To learn more about the accomplishments of Goodwill's Nurse-Family Partnership program, visit goodwillindy.org/health.