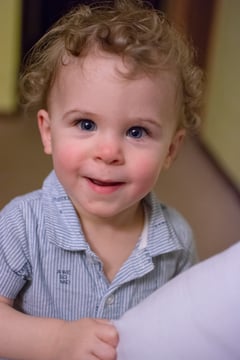 Launched in 2011, Goodwill's Nurse-Family Partnership (NFP) program pairs first-time, low-income moms with a registered nurse who makes home visits through pregnancy and up until a child's second birthday. In February 2020, we celebrated 3,000 babies born as part of the program, along with families like the Deahls, whose lives were changed significantly after the arrival of their son, Allistor.
Megan is legally blind and has cerebral palsy, requiring her to use a wheelchair. She didn't believe she would be able to conceive a child, so becoming a mom was a welcome surprise. Her husband, Nathan, also has cerebral palsy and uses a wheelchair. Like most first-time parents, the Deahls were eager to know everything possible about providing safe and competent care to their child.
"Physical limitations were their primary barrier," said Angel Alter, Nurse Home Visitor. "We had to become creative and figure out how Megan and Nathan could prepare themselves and their home environment to accommodate a newborn baby."
Megan experienced a long and difficult birth. "Most of the hospital staff were wonderful, but some questioned whether we could care for our baby because of our disabilities," Megan recalled. "Angel assured them that we were prepared. She's been a wonderful advocate for us."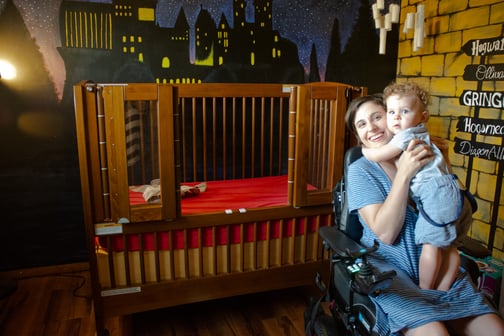 Angel also worked with a local organization to secure a $3,000 grant for the Deahls that allowed them to purchase a special crib for Allistor that is just the right height, allowing Megan to easily change his diaper and put him to bed.
"All new moms should have access to Nurse-Family Partnership," Megan said. "It's an amazing program."
Learn more about Goodwill's Nurse-Family Partnership: goodwillindy.org/nfp