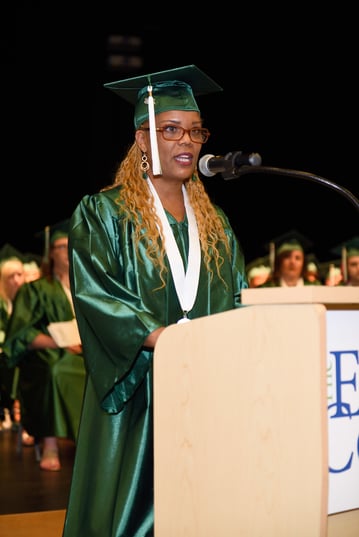 Tammi Burrus had her high school experience cut short when she became pregnant at the age of 16.
After giving birth to her daughter, Tammi attempted to return to school to finish her diploma, but balancing parenting with a full-time school schedule became too difficult to manage. However, she never gave up hope. Tammi continued to work toward earning her high school equivalency for many years.
"I think I attended every single GED course offered in the city of Indianapolis. I just couldn't get past the math and science portion. After the last one, I was so disappointed in myself," said Tammi. "I was working at a job where I knew I could do well and move forward, but I didn't feel worthy. I didn't even have a diploma, how could I be a supervisor?"
Tammi's feelings of low self-esteem and unworthiness led to her struggle with depression. She recalls sitting at graduations for family members and friends and feeling proud of them but filled with grief for never experiencing those feelings for herself. In 2015, Tammi's turning point came after hearing about her niece's experience, who graduated from The Excel Center®, Goodwill's free high school designed for adults.
After debating for days on whether returning to school was the right decision, Tammi decided to call and learn about the enrollment process.
"I spoke with a woman about enrollment, and she told me they were full for the upcoming orientation, but I could apply and get in for the next term," Tammi tearfully recalled. "After that conversation, I said, 'God, if this is really meant for me, then open the door. I will do anything to make it work – nothing will take me away from it.' She called me the next week saying they had an opening."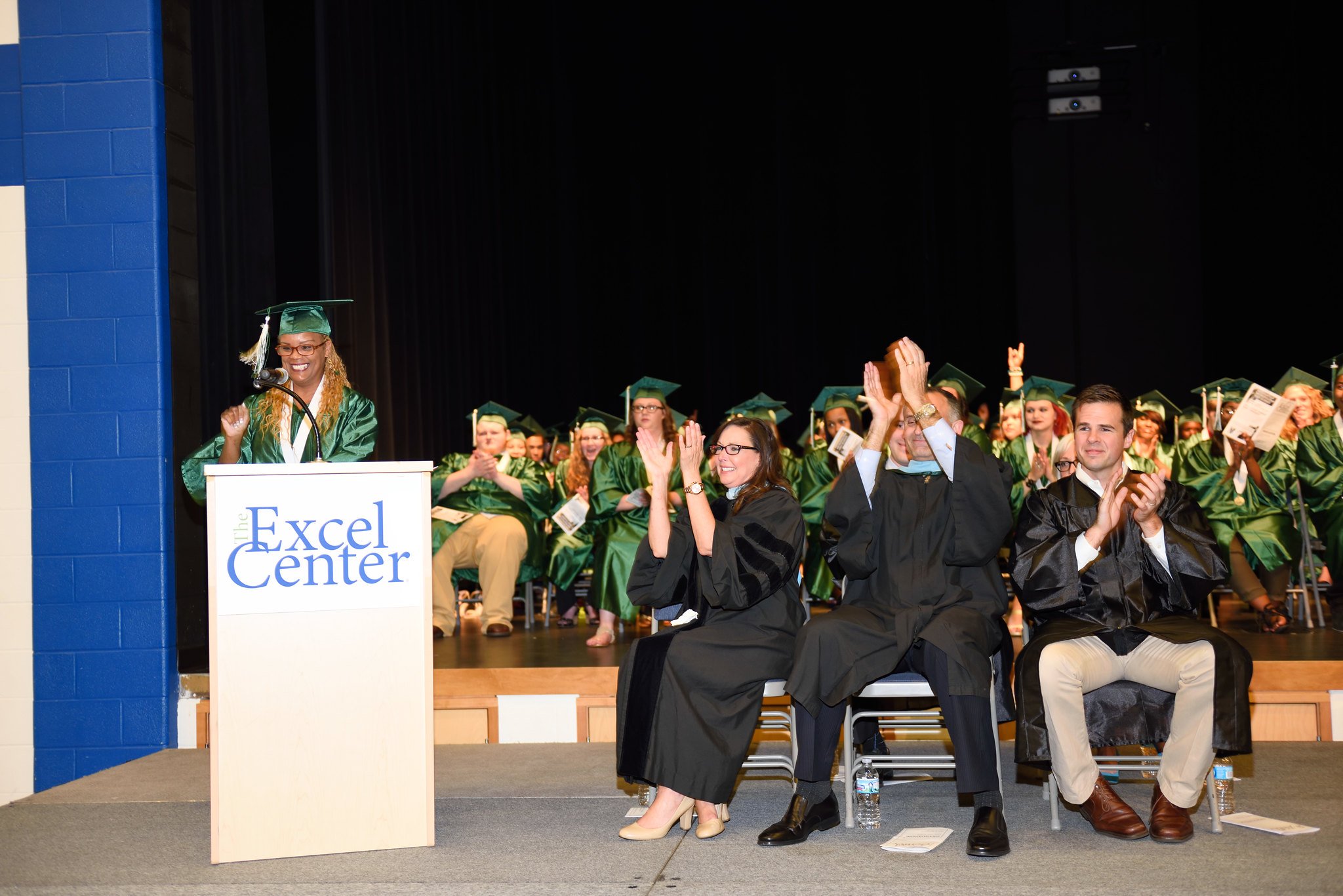 Looking back, Tammi recalled going back to school as an adult as one of the hardest decisions she has ever had to make. Initially, she was nervous about fitting in with students who were younger than her. However, her fears were unfounded as the younger adults would gravitate toward her and want to help her.
"Once I stopped letting fear guide me, I realized that my classmates – even the younger ones – were all really supportive. They would see me struggling and pull me over saying, 'Come here, Ms. Tammi! Let me help you!' That made a world of difference for me."
In fact, Tammi built an entire network of support through her teachers, coaches and fellow students.
"The teachers are so in-tune with students. They know how to work with students to ensure lessons are understood, and there is never any judgment. The first time I had to do a math problem on the board, I broke down in tears. My teacher gave me a hug and told me it was okay and that we would work through it together. From then on, I started to actually look forward to math and science – those same subjects that had held me back."
At the time of her initial enrollment at The Excel Center, Tammi was projected to graduate after two years of full-time classes. In 2017, after just one year, her coach offered her the chance to take more courses and graduate earlier than anticipated. Hesitant at first, Tammi leaned into her faith and ultimately decided to take the opportunity. Not only did she earn all of her credits and certification as a pharmacy technician early, but she was also selected as the class speaker for graduation.
"I felt like I was on cloud nine – after all those years of trying, and all those young people I was initially afraid of – I was there writing a speech to thank them. I finally felt that feeling that I had been missing," Tammi recalled. "I even had a woman stop me after the ceremony to tell me I had inspired her to go back too."
Tammi's experience at The Excel Center (previously on Franklin Road but now on Shadeland Avenue in Indianapolis) has not only changed her perspective on education, but has also continued to inspire those around her. Her oldest son, Brendan, also enrolled at The Excel Center and graduated in 2020. Like his mother, Brendan was selected as the class speaker.
Through the support, encouragement, and community that Tammi found at The Excel Center, she knows she can achieve anything she sets her mind to.
"There's nothing I can't learn!"
To learn more about The Excel Center or to enroll, visit: excelcenter.org