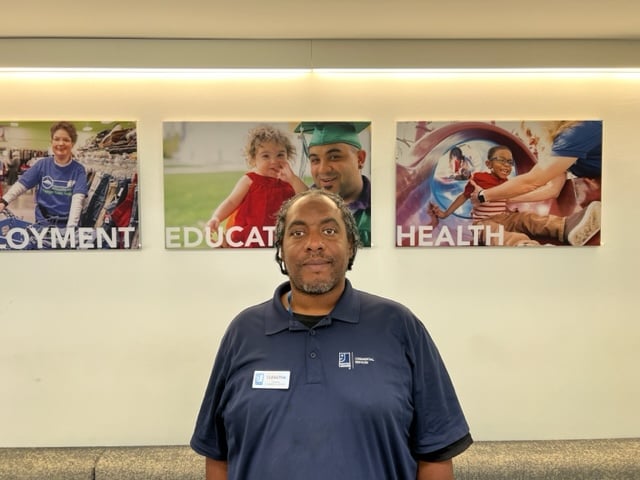 Goodwill of Central & Southern Indiana is one of the largest employers for persons with disabilities in Indiana, with more than 1,600 current employees reporting a disability – 34% of our workforce. For 90 years, we've been employing individuals and providing job training to Hoosiers who experience barriers to employment.
Many of these individuals are employed at our retail stores, but you may be less familiar with Goodwill's Janitorial Training Program (JTP). Designed for individuals who are interested in custodial work, the JTP provides an opportunity for on-the-job training and stable, long-term employment.
In August 2022, after 10 years unemployed, Cleautha Rich joined the JTP.
"People didn't want to hire a blind person," Cleautha explained. "Just because you can't see as good as other people doesn't mean you can't contribute."
Over the course of six months, he was trained on all aspects of cleaning and safety at Indianapolis Metropolitan High School, Goodwill's high school for traditional-age students. Cleautha cleaned classrooms and bathrooms, removed trash, wiped down desks and windows, and other basic janitorial tasks. Upon graduating from the program, he was reassigned to the Indianapolis Air Traffic Control Tower, where he mostly works independently.
"I like my job. The people are nice, and I know exactly what is expected of me," he said.
Cleautha emphasized the importance of work and the sense of satisfaction he feels being in a more stable financial position. He also praised his supervisors for their willingness to help when needed. One day, he would like to pursue a supervisory role, but for now, he's happy with his current responsibilities.
"Goodwill gave me an opportunity," Cleautha said. "They didn't dismiss me due to my disability. It has been wonderful. I would recommend Goodwill to anyone seeking work in the janitorial field."
There are 135 individuals currently employed at Goodwill who are either active participants or graduates of the JTP – 90% of whom report having a disability. They have worked at Goodwill for an average of nearly six years, with one individual celebrating 29 years in 2023.
If you or someone you know is interested in applying for the Janitorial Training Program, please visit our careers page.