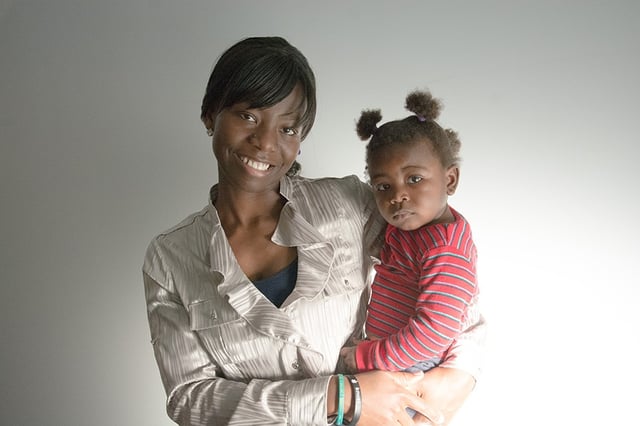 Knowing only an uncle here, Mansa Samlafo, a native of Ghana, was selected for a United States green card while studying in the United Kingdom. Although surprised, Mansa accepted, wanting the opportunity to live and work in the States. Soon her cousin joined them. A couple years later, Mansa traveled to Ghana to marry her long-distance fiancee, Robert Darku. She returned to the U.S. pregnant, not quite knowing how to navigate her pregnancy here.
Since they were waiting for Mansa's now-husband's green card application to be processed and approved, Robert stayed in Ghana and wanted to wait to start a family. However, both were happy to learn they were expecting, but the situation left Mansa without the support she would have had in Ghana.
"In Ghana, the traditional way is your mom comes to live with you for however long you need her," Mansa said. "Even aunts and uncles help with the baby, so when I was back here and found out I was pregnant, I didn't know what to do."
Mansa had never cared for a newborn and spoke with friend Srijana about her initial fears.
"I was afraid I might break the baby," Mansa remembered. "I didn't have experience, so how to properly and safely hold and bathe a baby -- all those things were strange to me. I needed someone to guide me."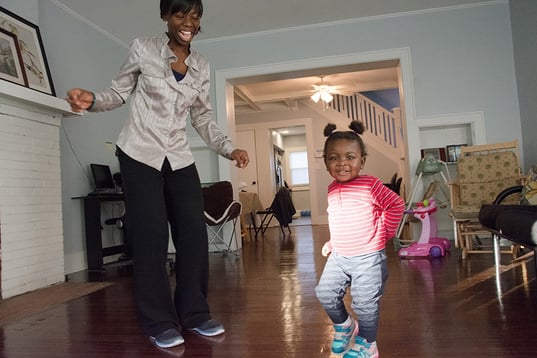 Mansa was also facing changes to her living situation and income needs. Her uncle moved out of state, so Mansa and her cousin were now on their own. Mansa was looking for better paying work that was relevant to her degrees and desired career path. Previously, she earned a bachelor's degree in materials engineering in Ghana and a master's degree in project management in the UK.
Learning of her friend's challenges, Srijana told Mansa about Nurse-Family Partership, which Srijana had graduated from in 2014. Mansa called NFP and joined the program.
"I can tell my nurse Abby anything," Mansa said. "I've gotten to know her. She's really nice and knows what she's doing. She taught me how to do all the things I didn't know how to do for a baby."
While Mansa was pregnant, she and Abby met two to four times a month, discussing topics and questions selected by Mansa. Among other things, Abby taught Mansa about what to expect during labor and delivery. They discussed various birth plans, so Mansa could choose her own as well as alternatives and why those might occur. Looking back, Mansa found this lesson most helpful because her daughter Dromo, born in July 2015, was delivered by C-section when natural childbirth wasn't progressing.
"In my mind, all I wanted was a natural birth," she said. "It was upsetting that I had to have a C-section, but I knew why and what would happen from Abby. She gave me good knowledge ahead of time."
When Abby learned of Mansa's job search, she referred her to Goodwill's job training and placement program, which matched Mansa with a position at Goodwill's corporate office supporting the technology solutions department.
"Now I'm learning more in my field and making a higher wage," Mansa said. "It has helped me alot. I can buy things for my baby and myself, and I don't have to save everything for bills, which is comforting. I'm much more relaxed. I feel like I'm getting there."
Her job with Goodwill has allowed Mansa to get a car, and she and her cousin are renting a house.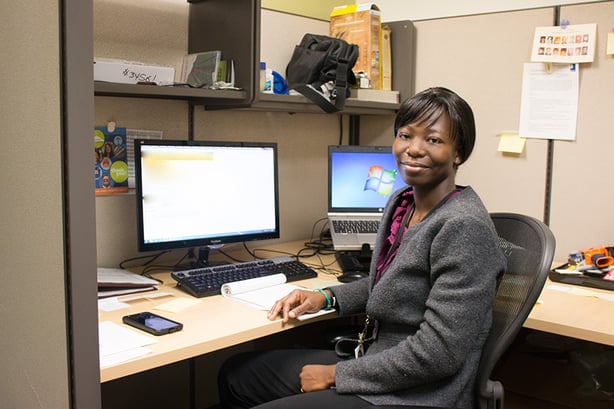 "I didn't know what NFP would offer me," Mansa said. "It's been a big help, and I've learned so much from Abby."
Using video chatting, Mansa and Dromo speak with Robert frequently, so Dromo knows her father. Soon she will see him in person. Mansa and Robert recently received notification that he is approved to apply for a green card, but there are currently no visas availble, so they continue to wait.
Mansa wants Dromo to be a good, kind and honest person who achieves great things. Mansa's goals for herself include continuing to do her job at Goodwill well, gaining a lot of experience, moving to a higher position and returning to school again. One day she wants to return to Ghana to do something good for her native country.
"Maybe I will set up something like Goodwill in Ghana," Mansa said. "Ghana has a lot of poverty and unemployment . My idea is to help people be self-sustaining, especially those who don't have jobs. Give them some kind of skill, something to earn a living."