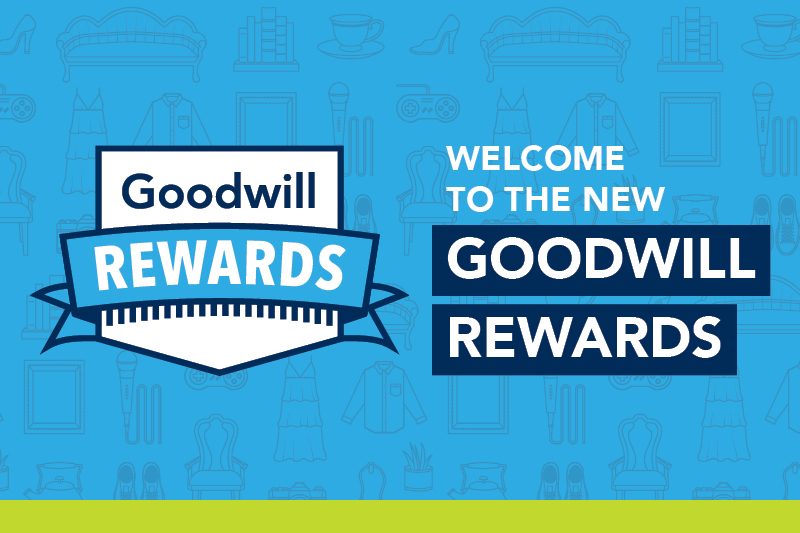 Goodwill Rewards is our way of saying "thank you" to our loyal shoppers and donors. Since 2011, Goodwill has rewarded our customers with everyday savings and surprise rewards, too. In 2022, Goodwill Rewards is taking a leap forward to be even better for all our shoppers:
Rewards based on how much you shop
Earn rewards faster
More rewards for email subscribers
And we're keeping what customers already love about Goodwill Rewards:
Access to your online account
Donation tracking
Birthday rewards
Surprise rewards
And more!
Starting January 20, 2022, in order to take advantage of the great Rewards Goodwill offers, such as Color of the Week sales, 99-cent Sundays, Senior Discount Wednesday and Military Discount, shoppers will need a Rewards account.
Goodwill Rewards is free to join. If you're not already a member, sign up at goodwillindy.org/rewards or the next time you make a purchase.
Customers can use their account on every transaction by providing a phone number at checkout. Goodwill no longer provides physical Goodwill Rewards cards, but customers who already have cards can present them to be scanned. Any customer can be looked up by phone number or name.
Members who spend $125 or more each year are members of Rewards VIP, and they receive 10% off purchases of $20 or more, all the time. New members and members who spend less than $125 a year are Rewards Members, and they earn a 10% off reward every time they reach $25 in purchases – whether in one day or over the course of a few weeks.
Rewards members who subscribe to our emails will also receive special offers throughout the year.
We are excited to announce this relaunch of our Goodwill Rewards program! For additional information or to sign-up for an account, please visit goodwillindy.org/rewards.