Warm, cheerful and happy, Kelly Kaser is a people person, remembering who she meets and details about them. She is a perfect fit for her job as a hostess at Scotty's Roadhouse on E. 96th St. in Indianapolis. She loves it, calls her coworkers her friends and by all accounts has an amazing work ethic.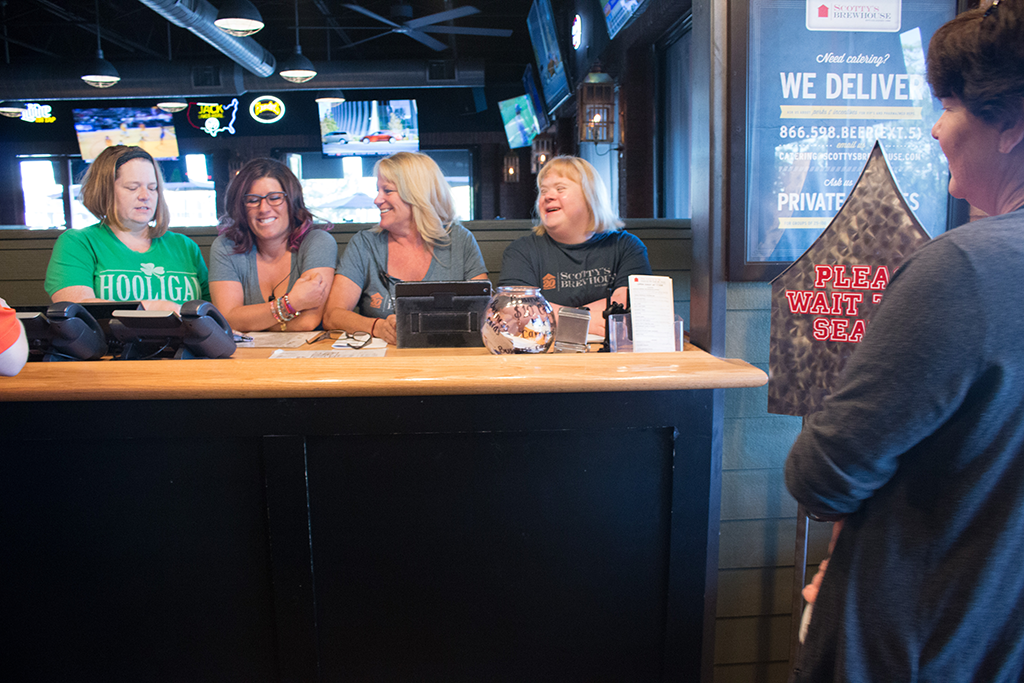 Kelly also has Down Syndrome, which can vary in effects. At 32, she lives with her parents who are her legal guardians. She has a small bit of a speech impediment and doesn't drive. Her parents gladly drive her where she needs to go, including her part-time job at Scotty's. Kelly, who has had a job since 2003, works a few days a week.
"Kelly has advanced personal interaction and social skills," said June Hennigen, Employment Advisor, Disability Services. "From a single interaction, she can recall details, faces and situations, then reference them the next time she sees someone. She thrives when she can be social."
After 10 years in a previous part-time job, her role transitioned and wasn't a good fit any longer for her bubbly personality. She was referred to Goodwill for assistance in finding a job that would better match her abilities and personality. June quickly determined that Kelly needed interaction with others and matched her with a job at Scotty's.
"I love working at Scotty's Brewhouse," Kelly said. "June helped me with what I'm supposed to do. My friends [coworkers] help too."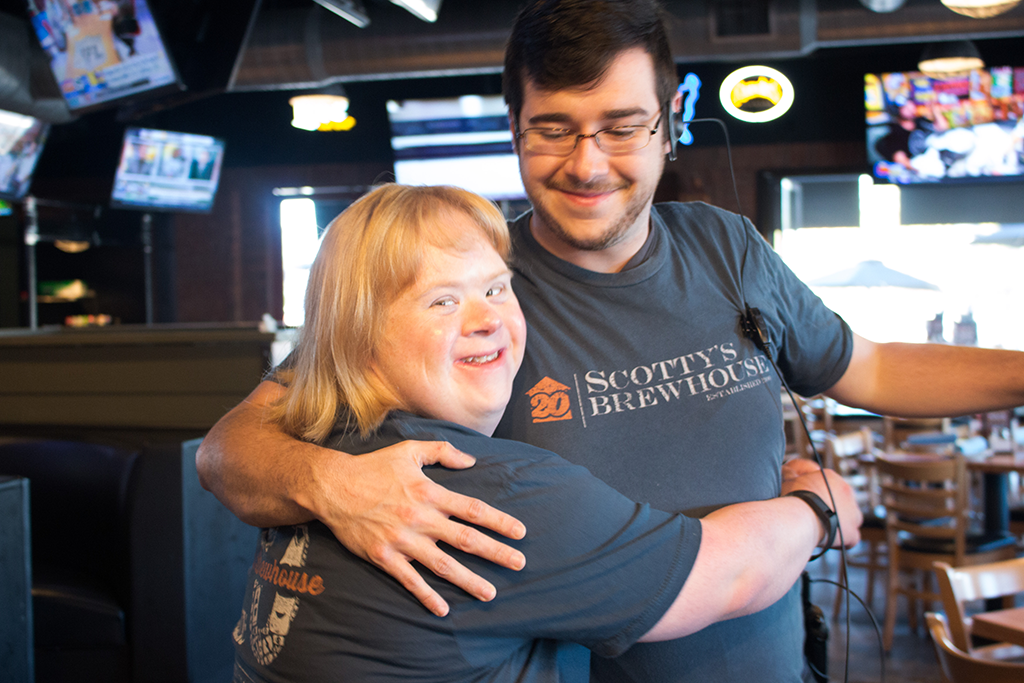 Kelly follows a routine at work, which gives her comfort in knowing what is expected of her. Once dropped off, she says hello to friends at the host station and then heads to the back to greet everyone there. She gets a drink and grabs menus to take to the front. Her responsibilities include rolling napkins and flatware, returning menus to the host station and greeting and seating customers.
"As an organization, Scotty's has been a phenomenal employer partner for us," June said. "They work with new employees where they are with their abilities. We've done job shadows onsite to see an individual's strengths, and they are willing to take time to train. Scotty's has wonderful natural support for employees, especially those who have disabilities. Scotty's gets it!"
Kelly likes to work hard and support her co-worker friends. The bonus she brings to the job is her wonderful attitude – she's always smiling and offering a hug or high five.
"Kelly is such a productive person, and her smile is infectious," said Richard Norris who hired Kelly while he was manager the 96th St. location but who is now manager at the Butler campus location, the Dawghouse. "The very first day she worked, a guest thanked me for hiring Kelly. Her smile improves the mood of every single person she comes into contact with."
That list includes company founder Scott Wise, whose family frequently dines at Kelly's location. She quickly became a family friend. When coworkers planned a surprise birthday party, Scott got in on the fun by surprising Kelly with tickets to see her favorite singer, Luke Bryan. Kelly was overjoyed.
She saves the money she earns but also enjoys shopping with her mom, sister and friends for CDs, makeup and perfume.
In 2016, Goodwill placed 12 people with disabilities in a job at Scotty's locations in and around Indianapolis and Brownsburg.