Indianapolis Metropolitan High School is a best-fit school designed to support students experiencing barriers to education, such as homelessness, pregnancy or parenting, involvement in the criminal justice or foster care systems, or are identified for special education.
Ibrahim Diakite, salutatorian of the Class of 2023, graduated Cum Laude and earned nine college credits while enrolled at Indy Met High School. He plans to attend Valparaiso University and pursue a higher-than-average wage post-graduation. His inspiring speech from the commencement is below.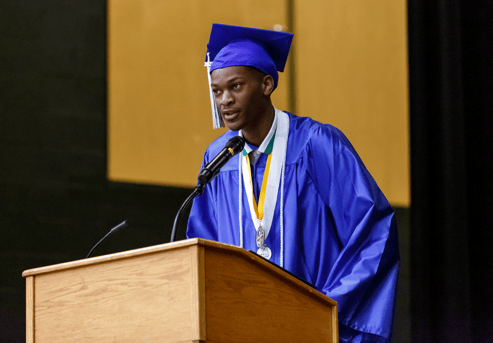 "Today, we gather here to bid a heartfelt farewell to our beloved high school—an institution that has nurtured our academic pursuits and my passion for basketball. As I stand on the cusp of a new chapter in our lives, it is with a mixture of nostalgia and gratitude that I reflect upon the priceless experiences I have gained both in the classroom and on the court.
Academically, this high school has been a place of intellectual growth and exploration. Here, I have been challenged to think critically, expand my knowledge, and develop the skills necessary for future success. Our dedicated teachers have guided me through many subjects, from mathematics to speech, from history to communication, ensuring that I am well-prepared for the challenges that lie ahead.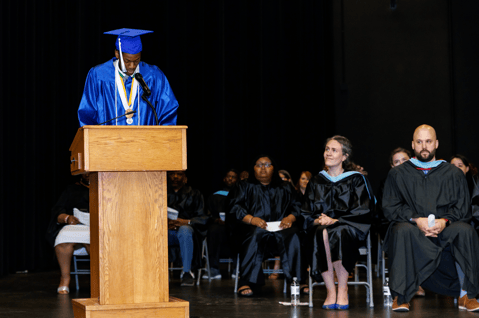 Simultaneously, the basketball court has been my canvas for teamwork, discipline, and self-improvement. Through countless hours of practice, grueling drills, and intense competitions, I have learned the value of dedication, perseverance, and the rewards of pushing myself beyond my limits. The sport has taught me the importance of collaboration, communication, and resilience in the face of adversity.
Both in the classroom and on the basketball court, I have witnessed the power of passion and commitment. I have learned to balance my academic responsibilities with the demands of my athletic pursuits, creating a sense of discipline and time management that will serve me well in my future endeavors. The experiences I have gained in both realms have shaped me into a well-rounded individual capable of academically and athletically excelling.
Thank you, and may the memories of my academic and basketball achievements perpetually ignite the flames of success within me."
Congratulations to the recent graduates of Indy Met High School, like Ibrahim, and the new Pumas who are well on their way to graduation this school year!