In the midst of the COVID-19 outbreak, most individuals have adjusted to a "new normal". Whether that means wearing a mask in public, or video conferencing throughout the day instead of meeting in-person, many of us are changing our routines and taking precautions to help ourselves and others stay safe.
Goodwill Commercial Services is no different, taking hard work and professionalism to a whole new level.
"Our Commercial Services division is extremely busy," said Jim Humphrey, Vice President of Commercial Services at Goodwill of Central & Southern Indiana. "The work that our teams do is potentially saving lives across the country."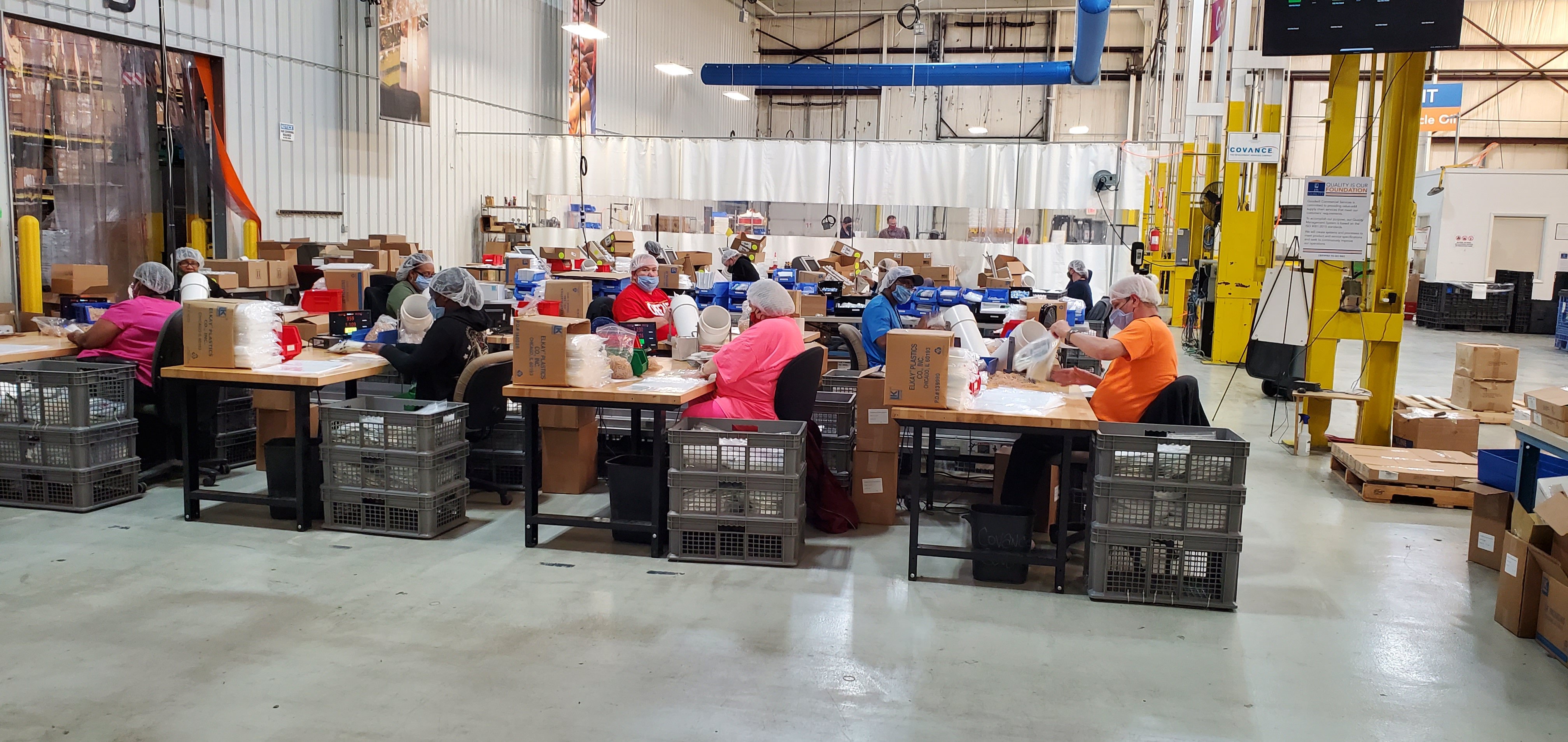 With over 300 employees, Goodwill Commercial Services continues to operate through the COVID-19 pandemic, manufacturing and packaging products used by hospitals, healthcare providers and long-term medical care facilities such as Cook Medical, Covance and EHOB, Inc.
"Goodwill has continued to be a reliable partner to EHOB, Inc., even through these unique circumstances," said James Bui, Chief Operating Officer of EHOB, Inc. "The Commercial Services team's dedication to their work has helped us meet critical customer supply needs that are necessities for the infirmed worldwide."
Goodwill Commercial Services offers contract manufacturing and packaging solutions to customers across the U.S. and around the world, ensuring quality every step of the way through a Quality Management System that's certified to ISO 9001:2015.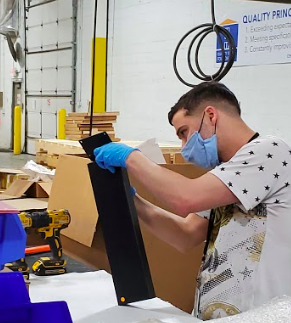 "As an essential business, our Commercial Services division continues to work hard on manufacturing and packaging products for the medical community such as test kits for clinical medical trials and other essential equipment," said Humphrey. "Our team has taken on great challenges under new circumstances and has done it with professionalism and dedication."
Many Commercial Services employees rely on public transportation to get to and from work. Despite the recent alterations made to public bus schedules, team members remain flexible, positive and make the necessary adjustments to arrive to work safely and on time each day. Employees have also taken part in COVID-19 precaution trainings, following new protocols around social distancing, in-person temperature checks and wearing mandatory face masks provided by Goodwill, in order to protect themselves and their colleagues while at work.
"Most of our employees also wear their masks out in public, to ensure they stay safe and healthy outside of work," explained Humphrey. "We try to recognize how proud we are of the staff each week by providing breakfasts, lunches and celebrations of some kind. Their professionalism has been truly remarkable, especially given the circumstances."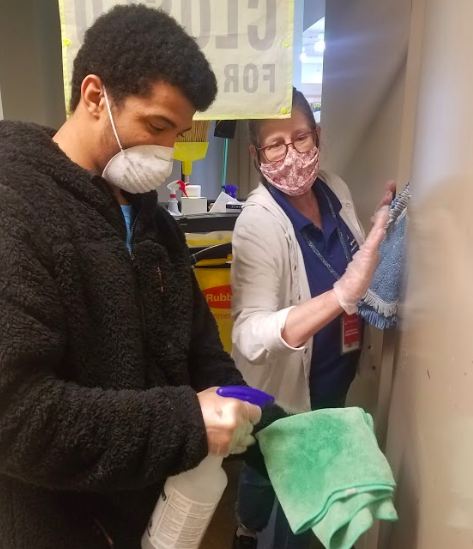 Commercial Services provides janitorial services to the federal government under the AbilityOne Program, providing jobs for individuals with disabilities. These individuals collectively clean over 2.5 million square feet of federal office space daily. Because of the COVID-19 threat, Goodwill's custodial teams rescoped their work and have also been participating in additional cleanings — including deep cleans of particular spaces and buildings — as well as implementing disinfecting and sanitizing routines.
"Our janitorial employees have been taking care of everything they need to do and are doing it very professionally," said Humphrey. "Customers have been asking for additional services, and our team continues to rise to the challenge."
Commercial Services also operates Goodwill Building & Grounds Services, which offers full-service, commercial landscape maintenance and janitorial services to customers throughout Indiana.
Due to the high volume of work that is required of the Commercial Services division, they continue to hire and onboard new employees. If you are interested in partnering with Commercial Services or learning more about their work, please visit https://goodwillbusiness.org/.