Goodwill of Central & Southern Indiana believes in growth and self-sufficiency through employment. This mission does not change when it comes to internships. Goodwill hires two interns annually and often has other internships available depending on the needs of the organization.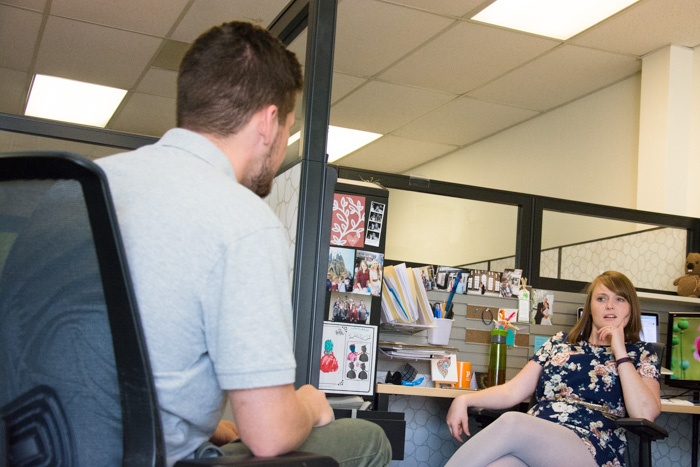 "I believe that an internship is a great opportunity to take a student's interest in school and explore it even further," said Amanda Safford, Goodwill's Talent Acquisition Manager.
In the summer of 2017, Goodwill interns contributed to the following departments: Marketing, Social Services, Philanthropy and Data Analysis. Safford believes that Goodwill's internships are unique because they try to make them beneficial for both the organization and the student.
"When we interview students, we like to share those ideas with them and see what they might want out of an internship. We can meet in the middle there and make it beneficial for all parties," said Safford.
To understand the benefits of the internships available at Goodwill, let's meet our most recent interns and see what they have to say about their experience.
Kelsey Stolz, Maurine Miller Intern - Social Services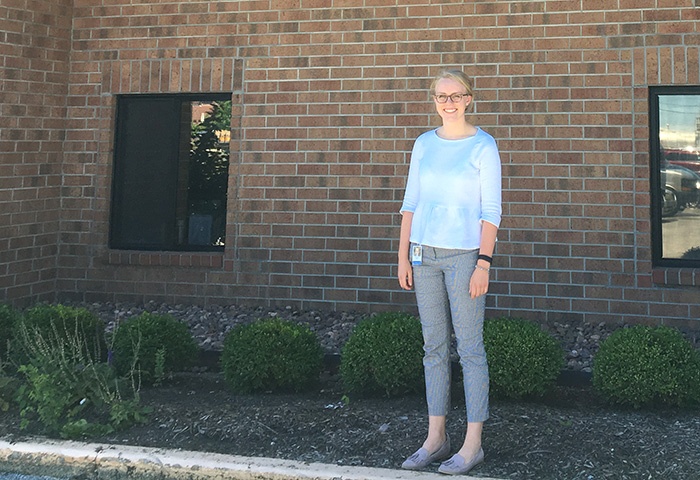 Kelsey Stolz is the intern for TalentSource this summer. This program helps individuals with barriers find a job. Kelsey supports participants in Goodwill programs to find employment or better employment than they have now. She supports the team's efforts to help participants in Goodwill's programs find a better job. She also helps remove life barriers such as finding child care or reliable transportation.
After this summer, Kelsey will be a senior at Purdue University in West Lafayette where she studies developmental and family science. In her free time, she likes to stay active by running or spending time outside. She also enjoys trying new recipes in the kitchen.
During her time here at Goodwill, Kelsey has learned that it is extremely important to build relationships with people.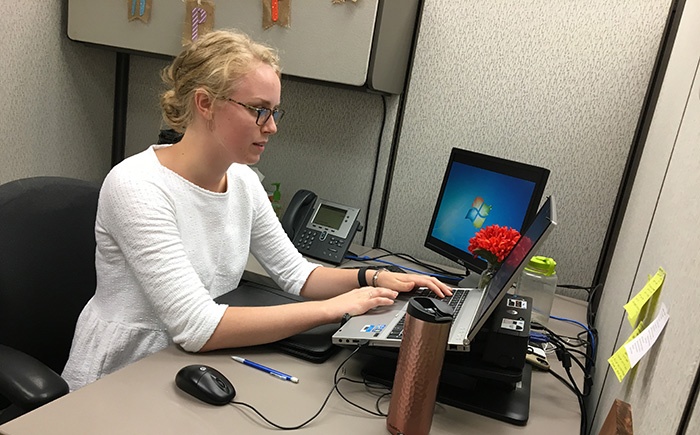 "You have to be an advocate and someone who the participant can really trust," Kelsey said.
One of Kelsey's favorite aspects of this internship is her coworkers. She also enjoys the participants she works with because they are very grateful for the work she does.
"This Goodwill internship offers so much more than what you see on paper," Kelsey said. "Not only do you impact a lot of the individuals you work with, but they also teach you a lot about life."
Scott Crabb, Jack Dustman Intern - Marketing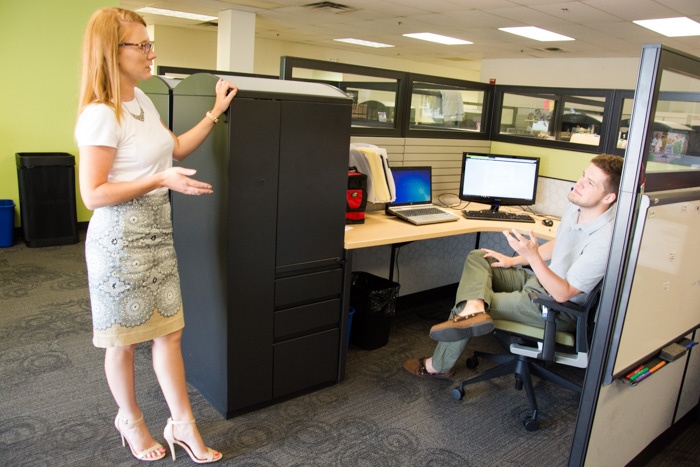 Scott Crabb is the Jack Dustman intern for the summer and supports the marketing department. Scott creates stories about Goodwill employees, program participants and students at The Excel Center and Indianapolis Met High School. These stories will be stored and used to help tell Goodwill's story throughout the year and promote Goodwill's mission. Most of his time at work is spent conducting interviews, editing video and writing stories.
Scott is looking forward to graduating from Indiana University, Bloomington, with one year left in his studies. He will graduate in May 2018 with a bachelor's degree in media advertising.
"When I'm not busy with school work, I love to go see an IU basketball game or explore the parks around Bloomington," Scott said.
Scott has exponentially improved upon multiple technical skills while at Goodwill. Because Scott mostly uses video to tell his stories, he has gotten very comfortable using a DSLR camera and video equipment. He has also improved his quality and speed of editing in programs like Adobe Premiere Pro and Adobe Photoshop.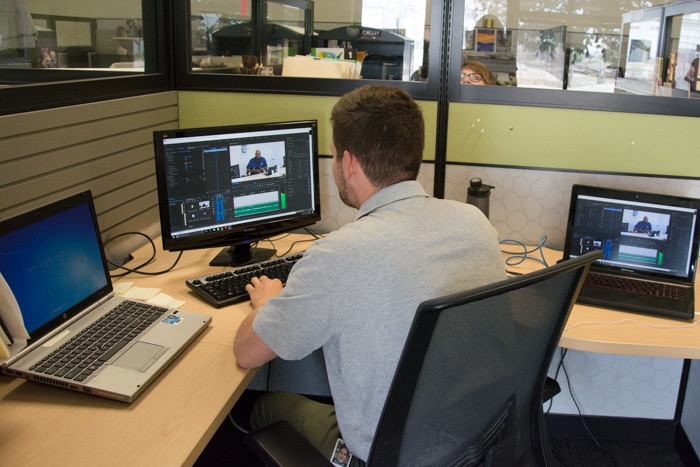 Even though most everyone has heard the phrase, "Don't judge a book by it's cover," Scott really took it to heart this summer.
"Oftentimes before meeting people, all I would know about them is their name, what program they participated in, and if I was lucky, I had a picture as reference," said Scott. "If you were to make any predictions about what they would be like—nine times out of ten you would be wrong."
BreAnnah Nunn, Data Analysis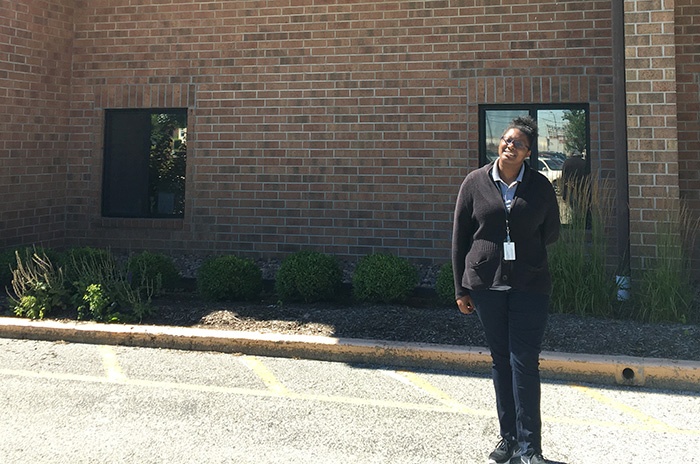 BreAnnah Nunn works with the TalentSource program and mostly tracks insightful data. BreAnnah's job is to keep all information about The Excel Center participants up to date so their career coaches can make better recommendations for them. She updates their status as a student, certifications earned and any work experience they have gained.
BreAnnah just graduated from Lighthouse Charter School and will attend the University of Indianapolis in the fall, where she plans to study creative writing.
Before working at Goodwill, BreAnnah already had experience in data programs like Microsoft Excel. She says that since she has been working with the program so frequently, she has grown in her skills at analyzing data.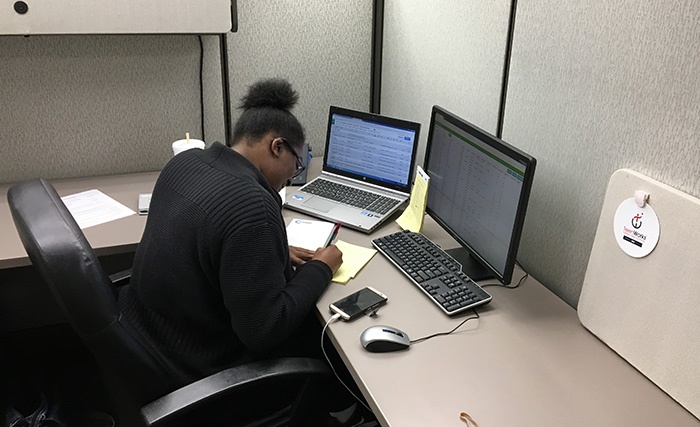 BreAnnah said she quickly learned that Goodwill is much more than a retail store you can visit to shop or donate. She was unaware of all of the programs and services that Goodwill provides and now notices all of the people the not-for-profit organization helps.
"I feel like their resources are really good. A non profit organization is fun to get involved in," said BreAnnah.
Allison Cardona, Scholarship Intern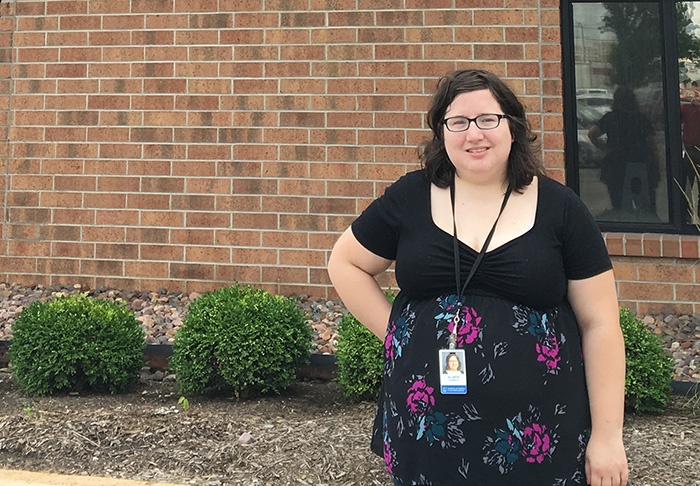 Allison Cardona is the Scholarship Intern and works in the Goodwill Foundation. Her job is to help the department with any task related to the scholarships Goodwill provides its program participants. Allison helps plan events like "Interview Night" and "Scholarship Reception Night." Additionally, she helps organize the applications for scholarships and determines how they are processed.
Allison is a recent college graduate. She received her degree from Indiana University - Purdue University Indianapolis (IUPUI) with a major in philanthropic studies and a minor in nonprofit finance and management.
One of Allison's favorite parts about the Foundation is that they work as a team.
"A lot of fundraising jobs are very competitive," Allison said. "Here you work together, and there is a team goal," said Allison.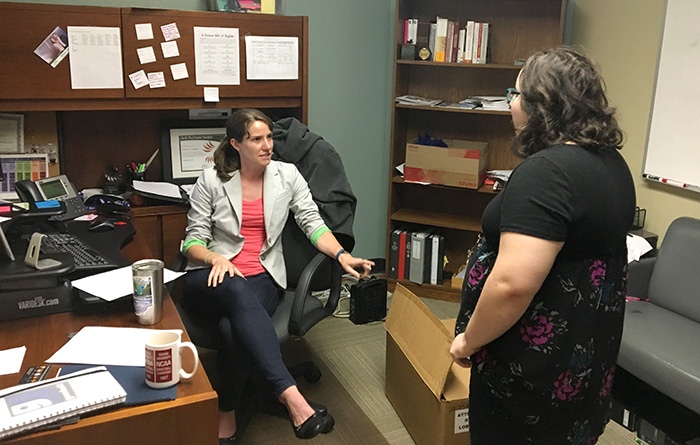 Allison really enjoys what she has experienced in her job so far. She says the process for selecting scholars was a lot of hard work, but extremely rewarding when the recipients were announced.
"They were all so excited, and it made the work so worth it," said Allison.
Forrest Nettles, Data Analytics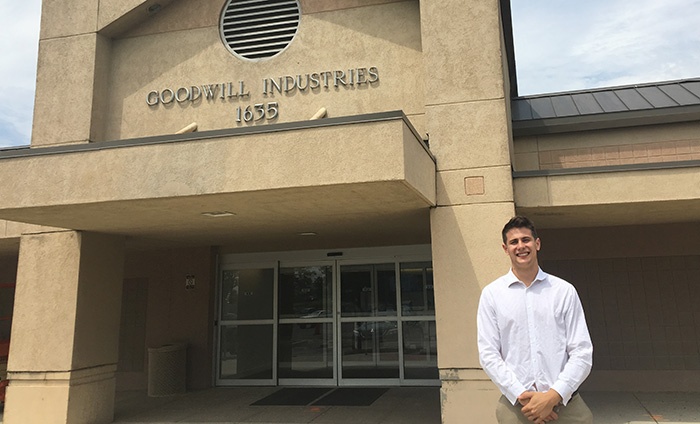 Forrest Nettles is the Data Analytics intern this summer. During his internship, Forrest was given a specific project for the Guides program, which connects retail employees with a career and life coach who helps them set goals for personal and professional growth. He helped create an easier way for the Guides to enter information into their database using Google Forms. This will help the Guides enter data faster, more efficiently and with less hassle. The Goodwill Guides use this data to track information about the participants of the programs and their progress.
Forrest is studying at DePauw University in Greencastle, Indiana. He will soon enter his senior year, and he studies economics and communications. When he is in school, he is also playing at the power forward position on the DePauw University Men's Basketball team.
"I feel more confident in my [Microsoft] Excel skills because of my internship," said Forrest.
During his time here at Goodwill, Forrest really felt valued by his coworkers.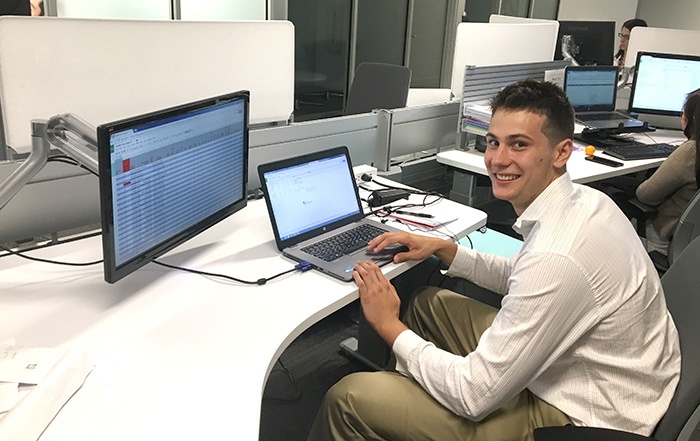 "This was the first experience where I felt like a member of the team rather than an intern for the team," said Forrest.
Forrest is passionate about the Goodwill mission to empower people through education, employment and health. He can truly envision all of the people Goodwill helps even when looking at the data on a screen. Forrest is proud to say that he was able to indirectly help a lot of people during his time at Goodwill this summer.
Hephzibah Igwe, Foundation Data Intern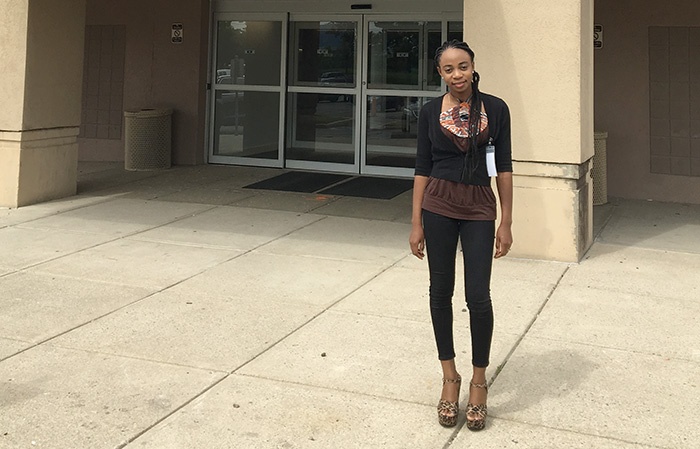 Hephzibah Igwe is the Data intern for the Goodwill Foundation. Hephzibah helps the Foundation by entering data into Salesforce. She corrects data, fills in missing information and organizes data in the program. This data helps sort information about donors such as when they are contacted, their contact information and their types of donations.
Hephzibah is a student at Indiana University - Purdue University Indianapolis (IUPUI) and will graduate in December 2017. She is currently studying public health and environmental health sciences. In her free time she enjoys volunteering.
"I will continue what I love to do no matter what career path I choose. My passion is to care for others in whatever way I can," said Hephzibah.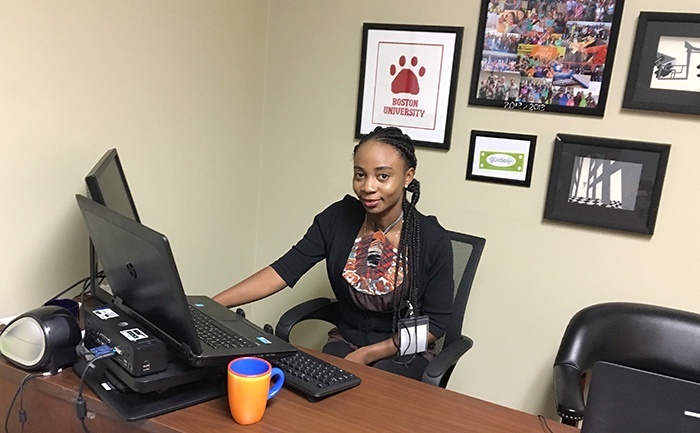 Before she participated in programs with Goodwill, Hephzibah thought the Goodwill brand just encompassed the retail stores. Hephzibah enrolled in Nurse-Family Partnership and still is in the program with her 15-month old daughter.
Hephzibah has found a common denominator in the Goodwill corporate office. She says all of the people here are kind and trustworthy. She didn't believe her supervisor when she told her that the employees here were this kind and happy every day.
This diverse set of interns is great at illustrating all of the unique opportunities at Goodwill of Central & Southern Indiana. Opportunities such as these are available for students and those seeking a career. Employment opportunities at Goodwill all have one thing in common—they are fulfilling.
Find out what job opportunities are available at Goodwill of Central & Southern Indiana here.