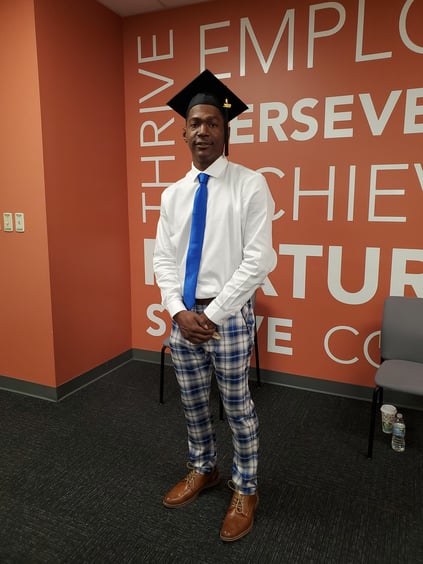 In 2012, Carlton Foster enrolled at The Excel Center®, Goodwill's high school for adults, to earn his diploma and expand his career possibilities. He would go on to be the first graduate of The Excel Center's Anderson, Indiana, location while also earning multiple industry-recognized job certifications.
"The environment at The Excel Center felt more like a college," Carlton explained. "I was provided with opportunities that I didn't have before."
One of his best memories from his time at The Excel Center was the support he received from the staff.
"The staff are inviting, and everyone was helpful," Carlton said. "The Excel Center teachers will help you even if you're not a student in their class or coaching cohort."
After witnessing his success, several of Carlton's friends and family members enrolled at The Excel Center, too.
"I know at least ten people who earned their diploma at The Excel Center," he said.
Carlton now owns a pressure washing company, but he also wants to help new businesses set up their technology networks and provide networking security, troubleshooting, help desk and other technical support.
Goodwill's recent partnership with Per Scholas, a technical training program, provides students like Carlton, as well as the public at-large, with access to these critical skills. Per Scholas has advanced economic equity for more than 25 years by offering evidence-based, tuition-free technology training and connecting graduates to high-growth careers in technology.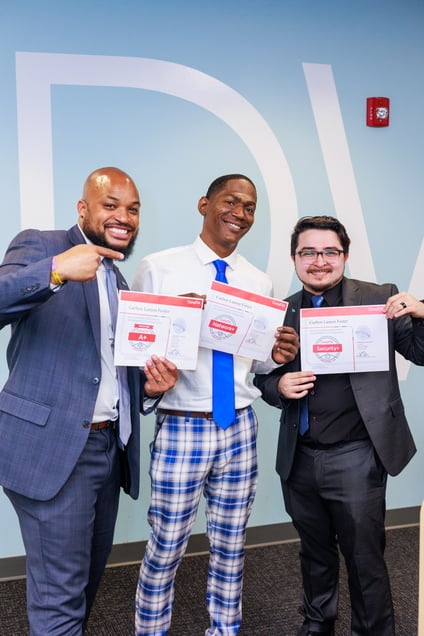 Carlton was a proud participant in the first cohort of Per Scholas Indianapolis graduates this past June, quickly receiving his CompTIA+ certification as well as his Network+ and Security+ certifications – credentials that will allow him to make his dream a reality. Per Scholas also covered the cost of acquiring these certifications. He is now putting his skills to work as an intern with the IT department at Goodwill Education Initiatives.
"I'm happy and thankful for the opportunities I was offered through Per Scholas and The Excel Center," Carlton said.
To learn more, visit excelcenter.org or perscholas.org.