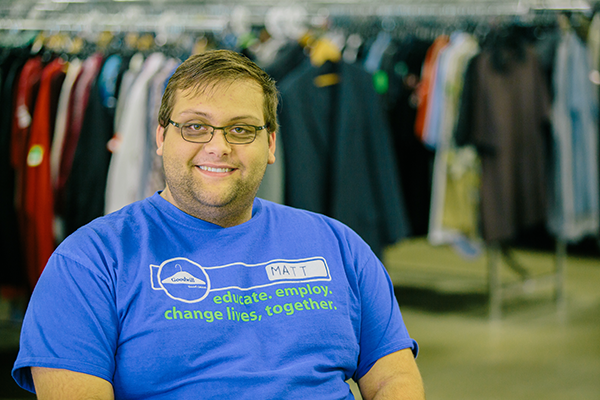 Passed by Congress in 1990, The Americans with Disabilities Act (ADA) is a civil rights law that protects individuals from discrimination based on a disability. The ADA requires covered employers to provide reasonable accommodations to employees with a disability and imposes accessibility requirements on public accommodations.
Goodwill's mission to employ individuals with barriers, including disabilities, long preceded any laws on the books, but the ADA has provided additional opportunities to work with employers – both inside and outside of Goodwill – to accommodate employees with disabilities in novel and inexpensive ways.
Before Matt Goodsman joined the Goodwill team in Greenwood last year, he had trouble finding a job.
"I put my application in everywhere, and no one would get back to me," Matt said. "People are seeing the wheelchair and not the person. They just assume that I'm limited in what I can do."
Although Matt started as a book scanner, his managers at Goodwill quickly realized his friendly demeanor and positive attitude would be a valuable asset at the cash register. There was one problem though: Matt's wheelchair did not fit into the cashier's work station. The store contacted Goodwill's Disability Services to see what they could do.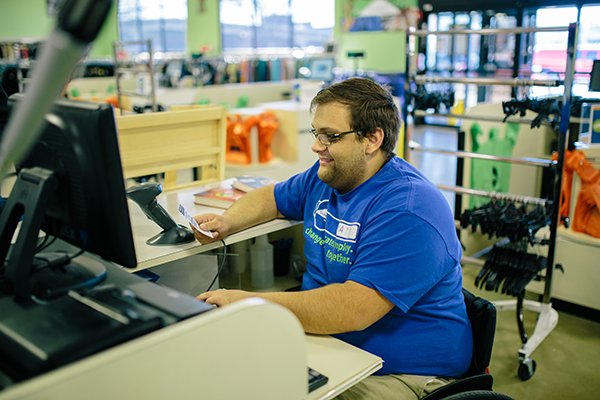 "The store was originally considering a $3,000 work station for Matt," said Ann Stephenson, Disability Services Manager. "Once we were able to assess the need, we discovered that we could accomplish the same goal for a lot less money."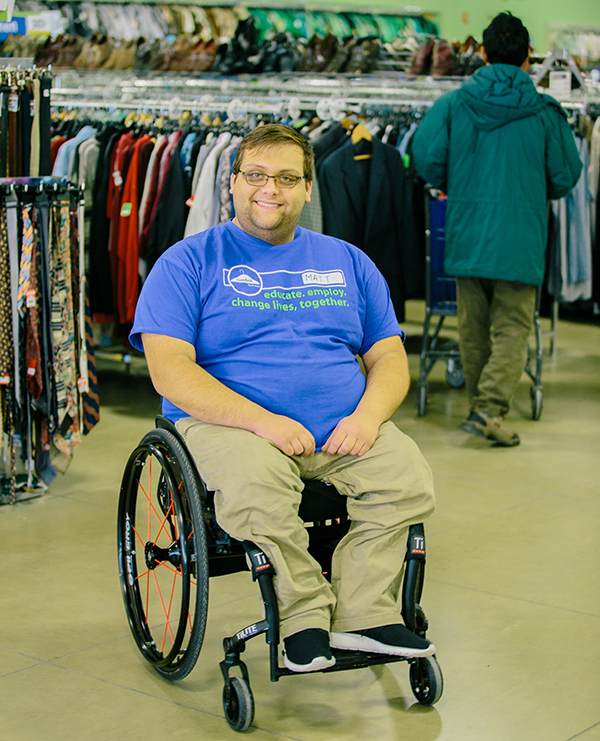 The Goodwill Facilities team removed one of the walls from an existing cashier station, allowing Matt to easily fit into the space with his wheelchair. They lowered the cash register keyboard and repurposed a clothing rack into a bag corral to make both accessible to his wheelchair height.
Matt is now the lead cashier and proving on a daily basis that he will not be deterred by his disability.
"I can open doors and pick up things by myself," Matt said. "The only thing I can't do is walk."