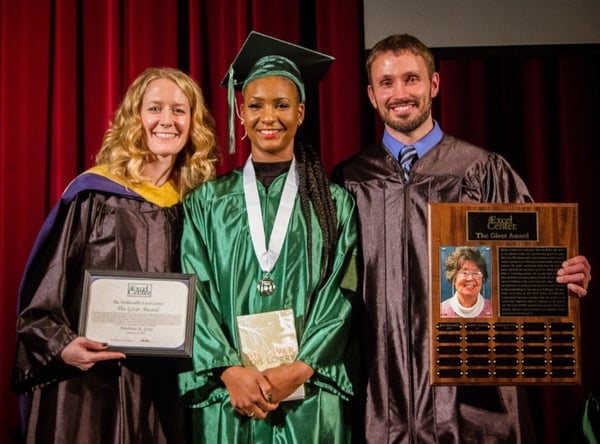 Briahnna Gray graduated from The Excel Center® in Noblesville in February 2018. She graduated with a free job certification from The Excel Center with plans to earn an associate degree in physical therapy. At the graduation ceremony, Briahnna was honored with The Giver Award, which the school gives to students who are determined and inspiring. The award recipient was also a student speaker at her graduation ceremony and shared her journey with the community. Read her speech below:
"My Name is Briahnna Gray, and I'd be lying to you if I stood up here and tried to make you believe that fairy tales are real, and this was the easiest journey I have ever experienced. If it was easy, I wouldn't be here at The Excel Center on this day getting my high school diploma. But who am I to tell you that it wasn't? Well, I'm walking proof. So sit tight in your chairs and open your ears because, boy do I have a story to tell you.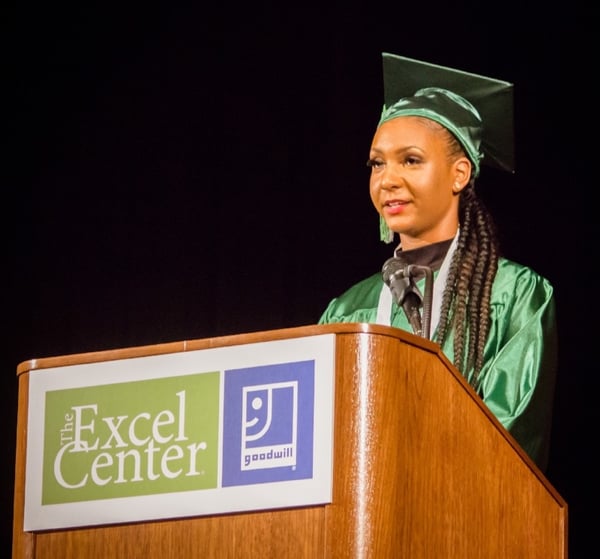 "I was born in Clarksville, Tennessee to a beautiful, strong and independent woman by the name of Tashaila Gray. I am also an older sister to Brittany Gray. For as long as I can remember, it was always just the three of us. My childhood was normal. My sister and I had everything we needed and more. As a single mother, my mom always made magic happen for us. My sister Brittany was more of a girly girl and took after my mom, while I fell in love with sports and athletics. Basketball was my first love. While my sister did great in school, I only did good enough to maintain my spot on the team and to be able to play. I always felt like the basketball court was my home away from home.
"My junior year in high school changed when I met a boy. This boy led me down a path that I was not accustomed to and caused me to distance myself from my family and friends. Not only that, but this relationship caused me to drop out of school two months before it was time for me to graduate. This took an extreme toll on my life and caused a lot of pain for the people I love and care about the most. Before I knew it, I traded my bed in for sleeping in abandoned houses and unoccupied cars. Daily meals turned into stealing spare change just so we could eat that day or night.
Briahnna shared that this was a very difficult and emotional time for her. She also learned she was pregnant with her first child. During her pregnancy and journey as a new mom, her mother and sister were by her side. However, she learned they were moving out of state, which took a toll on her and left her feeling alone. After reuniting and separating again from her ex-boyfriend for the final time, Briahnna knew she needed to find resources to get her back on track. Complications in their relationship led to the loss of her job, car and home.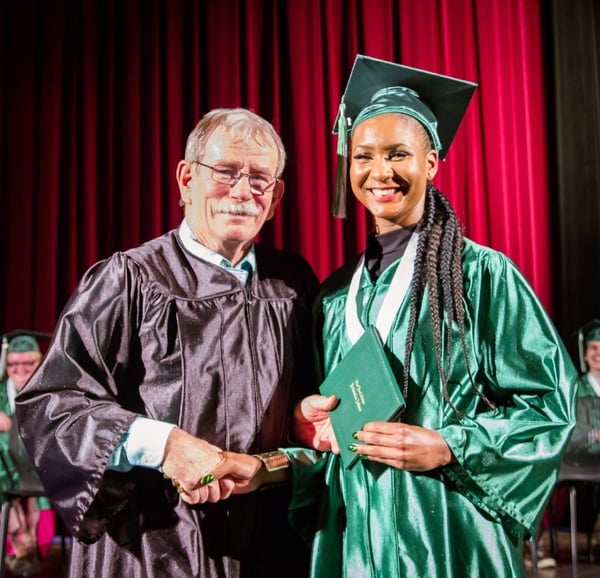 "I moved to a shelter called Family Promise, where I found out I was pregnant with my son. A month later, I moved to live in a home for pregnant women called The O'Connor House, where my faith grew, and I started to believe in myself even more. I applied to The Excel Center and began classes in July 2017. I was weeks away from having my son, but that didn't stop me from going to class and getting my work done. I had my son on August 16 and returned to school on August 21 to continue my education. Determined to finish, I didn't want to miss the rest of the term.
"This is why I'm standing here in front of you sharing this speech. Giving up isn't an option; it's a decision. It's a decision we choose to either accept or decline. We all have stories and backgrounds, but it all has brought us to The Excel Center. Just because we didn't finish when everyone thought we would or when we wanted, doesn't mean we change the goals we have set for ourselves. Sometimes we just have to change the timeline we have set. Five years later, my mom will still be as proud of me today as she would have been if I would have graduated in 2013. It's never about when you start, but it's about how you finish.
Overcoming personal obstacles is possible in order to improve your life, and The Excel Center is here to help. We offer life coaching, flexible schedules, child care and transportation assistance. If your goal is to achieve a high school diploma, enroll at excelcenter.org/enroll.