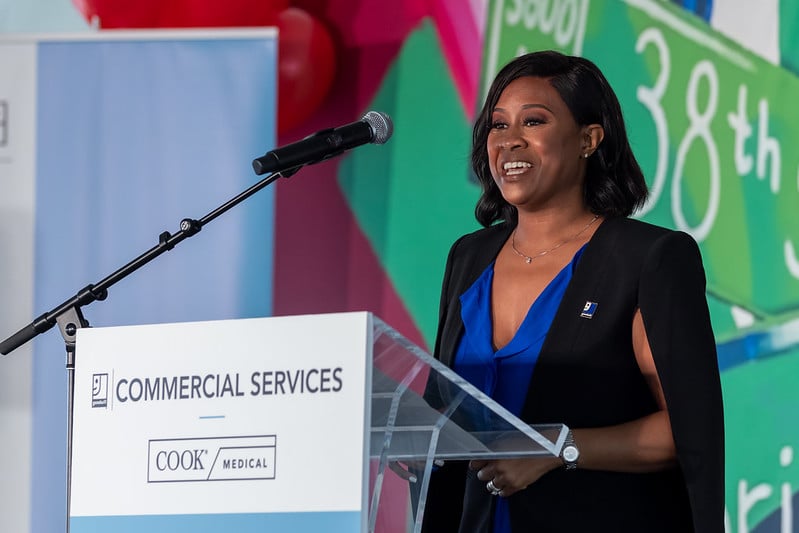 Born in Indianapolis with fond memories of attending Auntie Mame's Preschool near 38th and Emerson and elementary school at IPS School 92, a few blocks from the Goodwill Commercial Services manufacturing facility at 38th and Sheridan, Juanita Easterling, director of plant operations, is returning to her roots.
During her elementary school years, she moved to the heart of Detroit, Michigan, where the Big 3: General Motors, Ford Motor Company and Chrysler are headquartered. The Big 3 were thriving in those years and became part of Juanita's early career, but she had a longing to be back in Indiana. Several years later, Juanita learned about the plant manager position at the new manufacturing facility at 38th and Sheridan, including the social services element of the role.
"I love serving people. It was a dream job for me," Juanita said. "My aunt was telling me about a new facility in the neighborhood and how it would support the local community. I realized this was the same facility that I had just accepted an offer from!"
Juanita began her new position as plant manager in November 2021 with Goodwill Commercial Services, which produces devices for Bloomington-based Cook Medical.
"I wish my Dad was here to see that moment, because that was the moment he always envisioned for me — to be able to run a manufacturing facility," Juanita said.
She leads the manufacturing operations team at the new facility in production, engineering, supply chain and quality assurance. She will also be focused on Goodwill's mission to assist employees in expanding their skill sets and providing needed resources and services. The goal of the facility is to focus on offering people within the neighborhood opportunities in employment, health and education.
\"Goodwill puts people first," Juanita said. "Many of the people we employ are minorities, and it's important for them to see people in leadership roles who look like them. I also spent part of my childhood in this neighborhood. Being relatable in these ways helps me establish trust with them."
Juanita understands the lack of trust in a neighborhood where residents have seen businesses come and go with little thought to the impact on the people who live there.
"This facility is here to build the community, grow the community and become a partner in the community," Juanita said.
To aid in their development, two career and life coaches will connect employees with services available through Goodwill, including a range of personal and professional resources.
"I have been preparing for this role my whole career, Juanita said. "It is my dream job."