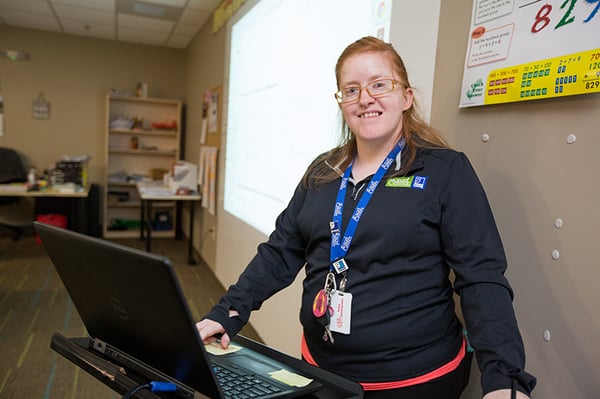 Sarah Schwartz earned a bachelor's degree in education from Indiana University Southeast in 2014. After graduating, she worked as a math tutor as she sought teaching positions, and also part-time at the Goodwill store in Corydon.
"I was at a town hall meeting in December 2016 when I learned The Excel Center, Goodwill's high school for adults, was opening a location in Clarksville," Sarah said. "I couldn't wait to apply."
In May 2017, Sarah accepted a position teaching math and was one of the four primary staff members tasked with recruiting students for the new school, which operates on five, 8-week terms throughout the year and now serves nearly 200 students.
"As a first-year teacher, it was challenging," Sarah said. "Our staff reflects on ways to improve after each term."
Outside of work, Sarah is dealing with her own personal challenges. She was recently diagnosed with muscular dystrophy, which causes progressive weakness and loss of muscle mass. She is working with her doctor to control the symptoms.
"On the occasions when I spontaneously fall, my students and the staff are helpful and supportive," Sarah said. "They try to keep book bags and other items I could trip over out of the way."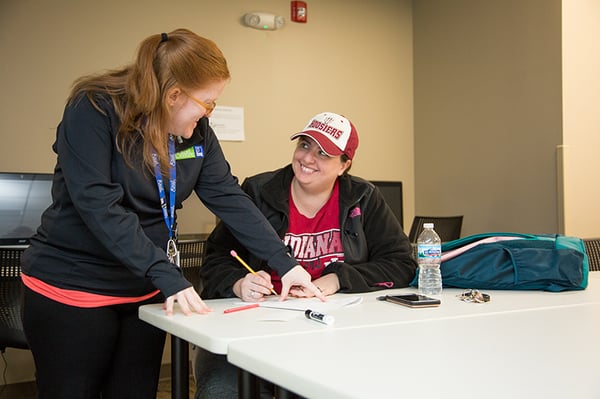 The staff also came together to support Sarah when her mother fell ill. The school organized a benefit and raised money to help with her medical bills.
"The support I have here is phenomenal," Sarah said. "They know about my limitations and work around them. We're like family."