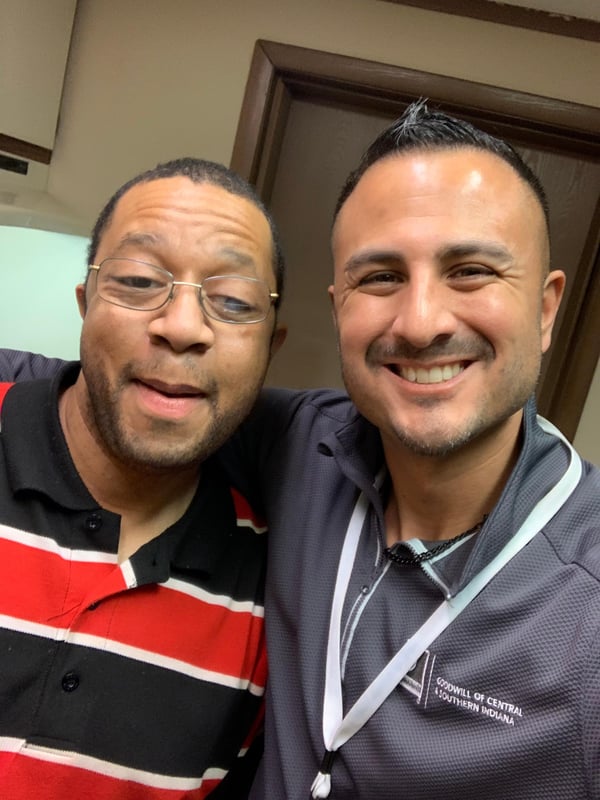 As a sophomore at St. Joseph's College in Rensselaer, Leonard Lofton was a successful student with plans to be a history teacher.
"I wanted to use my skills as an orator," Leonard said. "That was something I dreamt of."
But one day, while crossing the street to go to the campus store, Leonard was the victim of a hit and run crime that left him severely injured and in a coma. When he woke up, he had to learn how to walk and talk again. A serious head injury resulted in short-term memory loss and an inability to recall word usage and pronunciation. He will also never be able to operate a vehicle again.
Despite these setbacks, Leonard was determined to be self-sufficient. He set a goal to get a job and be productive. He used multiple programs, like Vocational Rehabilitation Services, and also enlisted the aid of Bosma Enterprises, where he learned to become more independent and more confident, which led to his job at Goodwill.
Since joining Goodwill more than six years ago, Leonard has been an outstanding employee. He takes great pride in his work, has perfect attendance and is popular with co-workers and shoppers alike. He also works with a Goodwill Guide — a career and life coach.
"The Guides help me talk through financial decisions and make sure I don't get off budget," Leonard said.
Leonard has had great success in the Guides' financial literacy program, effectively managing his financial budget and maintaining an emergency fund that ensures his ability to live independently.
He now works two jobs, has his own apartment, pays his own bills and is in command of his own life. He continues to communicate frequently with his Guide, has established his credit and is working to increase his credit score. He also hit numerous savings goals and is now working to increase his retirement savings contribution.
With his grit and perseverance, Leonard is unstoppable.