When James Wilson was incarcerated in 1996, he was facing 42 years for conspiracy to deal drugs. He knew when he walked into the penitentiary at 37 years old that he needed to make changes in his life if he was going to turn things around. After 17 years, with a squeaky clean record as an inmate, Wilson appealed to the courts for an early release. His request was granted, and he was released – on house arrest.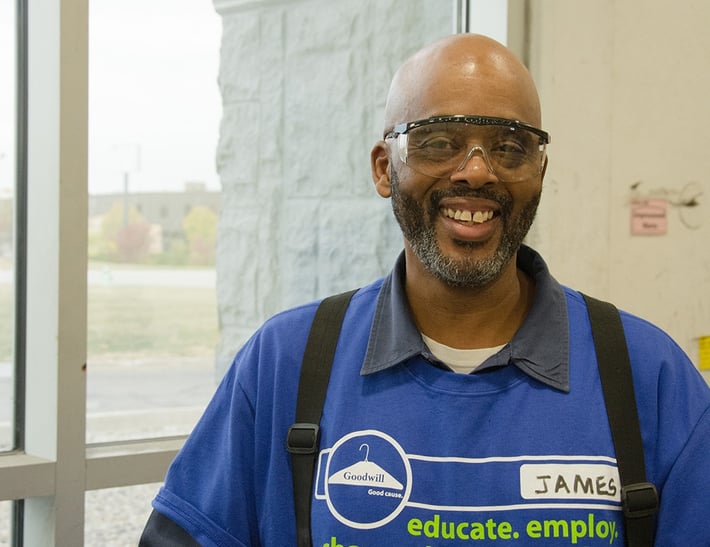 He immediately began searching for a job, which was difficult given he could not leave his home without providing 48-hours' notice to his parole officer and specific details of where he would be.
"I couldn't even get hired at a car wash," said Wilson. "I would arrive dressed in a suit – maybe I was overdressed – but I just wanted to be taken seriously."
Wilson searched for an entire year without securing a single interview. Then, a friend told him about Goodwill, so he contacted the manager at the north side outlet.
"Mr. Wilson has an extraordinary work ethic," said the outlet manager. "He would take the early bus and arrive three hours before his shift started to make sure he was at work on time."
After three months, Wilson was offered a full-time position. Shortly thereafter, he was named employee of the month.
"Goodwill gave me a second chance," said Wilson. "I didn't want them to regret it."
He quickly became one of the strongest trainers in the facility – working with more than 100 people over the past two years with varying degrees of disability.
"Goodwill helped me, and it feels good to help others who come to Goodwill with a barrier looking for an opportunity to work," said James. "I help connect them with roles that emphasize their strengths."
Wilson was also eager to continue building on his own success. He began working with a Goodwill Guide – a career and life coach offered for free to employees.
"My Guide saw me in the employee break room studying for the written driving test and asked if he could help," said James. "I had gone four times to take the test and failed, but I was able to practice on my Guide's computer until I felt confident about passing."
Wilson got his driver's license on his next attempt. With a good job history and a desire to advance, he told his Guide he wanted to pursue a second job, so he was connected with TalentSource, Goodwill's job placement services, which arranged an interview with FedEx. His Guide helped him create a resume and prepare for the interview, and he was offered the position.
For more than six months, Wilson has worked both jobs. Monday through Friday, from 11 p.m. - 5 a.m., he works at FedEx; then he drives to the Goodwill outlet on the south side, where he works from 6 a.m. - 2 p.m. – about 65 hours a week - sometimes sleeping in his car between jobs. He has 100% attendance at both.
"I eventually want to build a log cabin and retire with my wife," said James. "She deserves to be taken care of."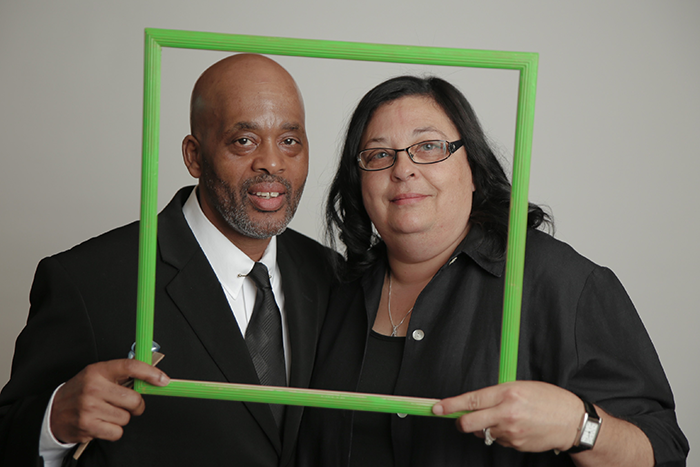 Now, Wilson is talking about his experiences with today's youth, including teenagers at the Juvenile Detention Center and students at Indianapolis Metropolitan High School.
"I don't want to scare them straight," said Wilson. "I want to show them even the biggest barriers can be broken down, and that any challenge they're facing today can be overcome."
Now 57 years old, Wilson has become one of Goodwill's most vocal advocates – living out the mission of the organization by leading individuals with barriers to the door that was opened to him three years ago when it felt like no one was willing to give him a chance.
"When you have someone support you, as Goodwill has with me, you want to pay it forward," said Wilson.