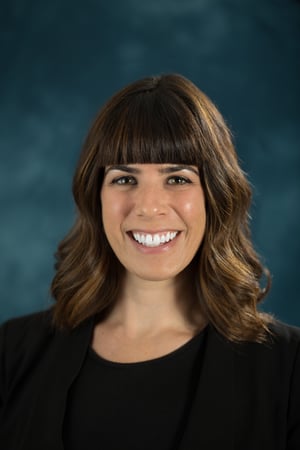 Lily Smith, Chair of the Goodwill Young Leaders Board and member of the Board of Directors of the Goodwill Foundation of Central & Southern Indiana discusses why millennials give to Goodwill.
How did you get connected to Goodwill?
I was looking for an organization to get involved with outside of work and had personal connections with Goodwill who encouraged me to take a tour to learn more. The buy-in was pretty immediate. Goodwill represents a lot of what I believe in as far as providing holistic support that creates systemic change. I was invited to help develop the Goodwill Young Leaders Board five years ago as a founding member.
What are the goals of the Goodwill Young Leaders?
Our two core focuses are innovation and sustainability. We raise money through a variety of campaigns to fund initiatives that benefit the people and programs at Goodwill. For example, each year we award a Goodwill program $5,000 to invest in new, innovative initiatives. In addition, as part of our Savings Match Program, more than a dozen Goodwill Young Leaders were paired with retail employees to teach them how to save money. Participants will receive a matching payout up to $500 upon completion of the program. This year, we also funded a computer loan program for Goodwill's Senior Community Service Employment Program.
How did you get involved with the Goodwill Foundation's Board of Directors?
For its 100th anniversary, the Central Indiana Community Foundation (CICF) wanted to support the appointment of young leaders to boards across the city. As part of that initiative, young leaders were gifted $10,000 every year, for three years, for the organizations they represent. I was chosen by CICF to be one of these fellows and joined the board of the Goodwill Foundation of Central & Southern Indiana.
What impact do you think young leaders are having on boards across the city?
Millennials are questioning how organizations are making money and engaging. For example, do our investments align with Goodwill's mission; are they environmentally sound and sensitive to human rights issues? I think the next evolution of capitalism is looking at social impact and social enterprises. Goodwill is an incredibly successful example of this social enterprise model — turning revenues generated through donations into education, employment and other community services.
How is Goodwill a good steward of the donations it receives?
Your goods, donations and financial gifts to Goodwill go a long way. Goodwill addresses multi-generational problems. They innovate and track, shifting course when things don't work, and investing more when they do. Privilege is having support. Goodwill creates opportunities for people to plug into a support system.