Born with cerebral palsy, Nathanial Gregory credits his successful high school experience in part to accommodations that were designed to help him overcome his educational barriers. Upon graduation, he enrolled in college – the first in his family to attend – and found himself in an unfamiliar academic setting with little knowledgeable guidance.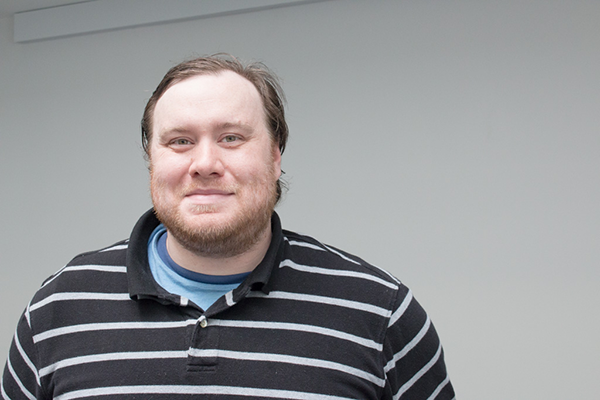 "I didn't have the resources available to me in college that I had in high school, and I had trouble navigating it all on my own," said Nathanial.
Coinciding with these new struggles were family challenges that made it difficult for Nathanial to focus on his responsibilities at school. He was eventually placed on academic probation and withdrawn from his classes.
Nathanial started a job at FedEx Express, where he worked for more than seven years. The work was physically demanding, especially for someone with cerebral palsy.
"I want people to understand what it's like to have cerebral palsy – the daily struggles of living with it," said Nathanial. "I'm in a constant state of pain. Just getting dressed in the morning and cooking for myself is a challenge. I'm a high fall risk, so even taking a shower or a walk can be dangerous."
The symptoms of cerebral palsy tend to get worse with age, and Nathanial knew the physically intensive work at FedEx would only grow more difficult over time.
"I wanted a career that required a different set of skills," said Nathanial.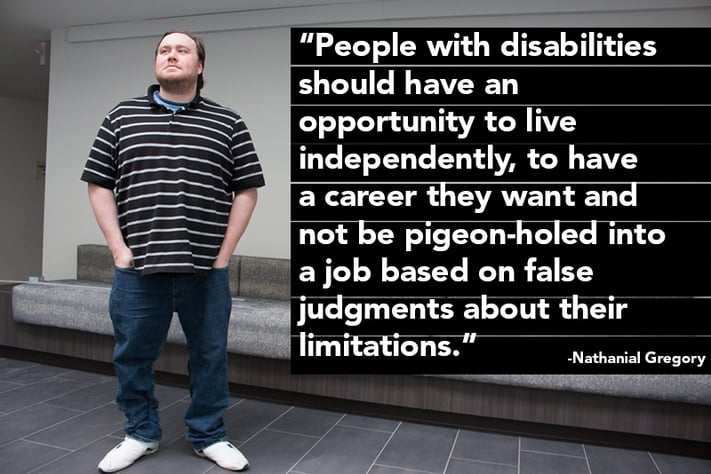 Vocational Rehabilitation Services connected Nathanial with a job at ClickGoodwill, where he writes descriptions for items to be sold online. His short-term goal is to increase his skills in furtherance of a job with more responsibility and better pay, but his sights are set on the future and becoming a teacher.
"People with disabilities should have an opportunity to live independently, to have a career they want and not be pigeon-holed into a job based on false judgments about their limitations," said Nathanial.
The first step to getting back on track was to get re-enrolled in college, which included some obstacles. Nathanial sought assistance from Edward Rickenbach, his store's Goodwill Guide – a career and life coach that offers free support to employees to help them achieve goals and overcome barriers.
"Eddie was indispensable in helping me successfully write my appeal to Ivy Tech explaining why I should be given a second chance," said Nathanial. "He also helped me prepare for the placement tests."
During Nathanial's first semester back at Ivy Tech, he earned straight A's. He is currently on a general studies track, but plans to transfer to a four-year college to pursue a degree in secondary education. He was recently awarded with a McClelland Scholarship, named after Goodwill's former President and CEO, Jim McClelland, which will help pay for his fall tuition.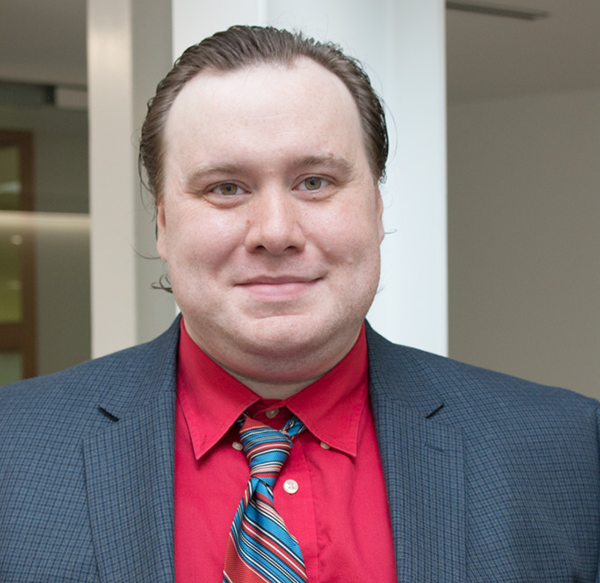 In his free time, Nathanial is taking the information he has learned and sharing it with others who face similar challenges. Nathanial recently participated in a panel discussion for Easter Seals Crossroads to guide parents on helping their disabled children transition from high school to college.
"I want to help people in the community further themselves by providing information and encouragement," said Nathanial. "Goodwill helped me, so I want to pay it forward by helping others with the knowledge I have gained."