As Women's History Month comes to a close, Goodwill of Central & Southern Indiana continues to highlight women leaders who contribute to the mission of changing lives daily through education, health and employment.
Jessica Coslett is a site leader for Goodwill's Greenfield retail store, working with our retail associates to generate the critical revenue that supports our mission.
Jessica has been a valued Goodwill employee for 15 years and has worked in various roles, including cashier, team lead, assistant manager and more. However, as a site leader, her role currently revolves around managing the store's operations, as well as developing and training new associates.
"I like being able to give people second chances, help them and see them grow," said Jessica. "I like to give those chances to folks who may not get a chance elsewhere."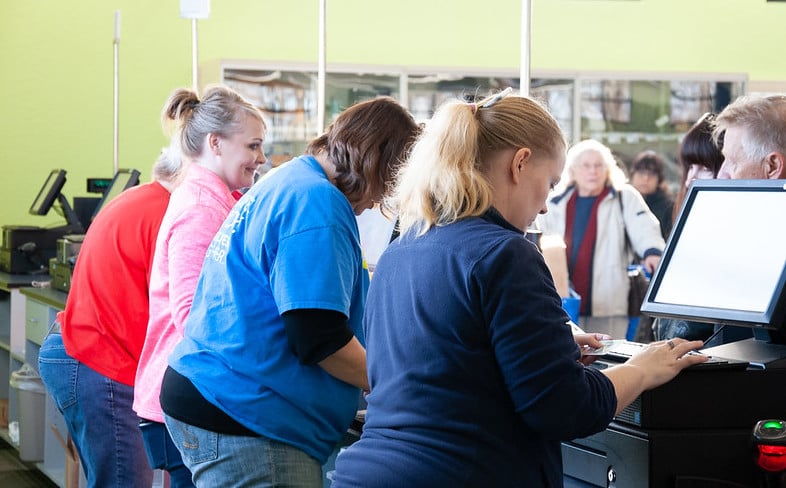 Women's History Month affects both Jessica's work and home life. Jessica values the opportunities she has to mentor the women in her store and connect them to resources available through mission programs such as the Goodwill Mission Coaches – free career and life coaches offered to Goodwill employees.
"Working at Goodwill, we have the opportunity to work with women of every age group, help develop them and reach their potential through our mission of health, employment, and education," said Jessica.
At home, Jessica studies the history and contemporary issues that affect women. She celebrates the women who have played vital roles in society by recognizing their achievements.
"I like to educate myself on the things that are going on in the world and how I can help people around me learn about all of the great things that women have done and continue to do," said Jessica. "I keep in mind there is still work that needs to be done."
During this commemorative period, she looks up to figures like Susan B. Anthony, who did immeasurable work for women's suffrage and gender equality. Jessica's mother also inspires her personally.
"I admire her the most," said Jessica. "Despite obstacles, she has always put people above herself and helps them no matter what."