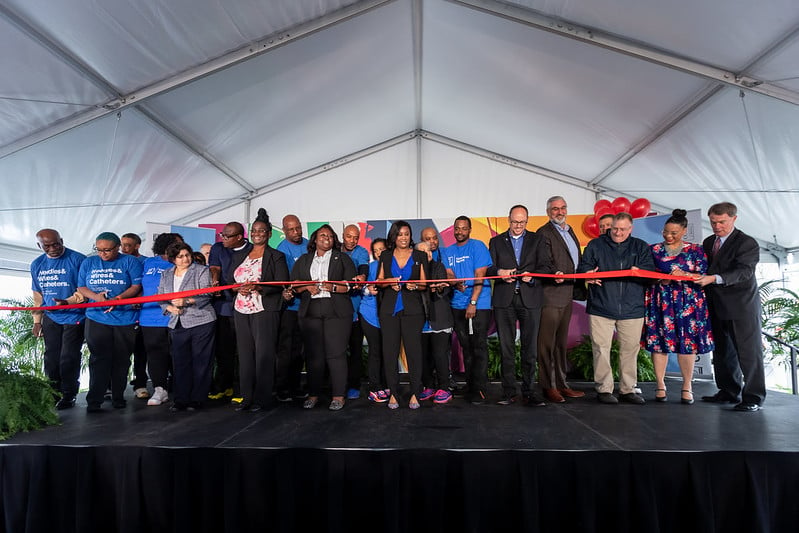 It's been two years since Pete Yonkman, CEO of Cook Medical, a medical device manufacturing company based in Bloomington, Indiana, approached Goodwill's leadership about partnering on a unique project. Those conversations came on the heels of the murder of George Floyd and pandemic-related racial disparities and included questions about social justice and the role we play as employers in helping to strengthen our communities.
It was Yonkman who conceived of the idea to bring new jobs to a community in Indianapolis in need of opportunities and investment, and Goodwill was both humbled and thrilled to be one of his first calls to make this idea a reality. The premise was simple: bring opportunities in education, health and employment to a community that experiences high poverty, high unemployment and limited opportunities due to corporate desertion in the preceding decades.
The employment partnership between Cook and Goodwill goes back to 2019, when Cook first received contract manufacturing services from Goodwill's Commercial Services facility. This relationship was the catalyst for a new manufacturing facility in Bloomington operated by Goodwill. Cook was also integral in Goodwill opening an Excel Center, a tuition-free high school for adults, in Bloomington.
During this time, Cook came to understand the driving force behind Goodwill's mission, vision and values. Goodwill's excellence in manufacturing coupled with its approach to employee development and support is a large reason why Yonkman knew it would be the ideal partner for this endeavor. We immediately got to work, and in June 2020, the site at 38th and Sheridan was selected.
Cook enlisted the United Northeast Community Development Corporation to learn more about the residents in the surrounding community – their needs, wants and hopes for the community as well as their desire to be involved in the project. Through these conversations, Cook set out to hire 100% local, diverse (minority, women, disability and veteran-owned) contractors to build the facility, a goal that many said was impossible, but which we're proud to say was accomplished.
In addition, Indy Fresh Market, a full-service grocery store, was added to the project and will bring fresh groceries to what is currently a food desert. It will be located adjacent to the new manufacturing facility.
The project broke ground in April 2021 and construction was completed on the manufacturing facility less than a year later, with employees beginning to train in January 2022 for the official opening in May. Eventually, the facility will employ 100 people, most of whom live in or near the Devington neighborhood in northeast Indianapolis. Employees will manufacture medical devices such as sheaths and drainage catheters.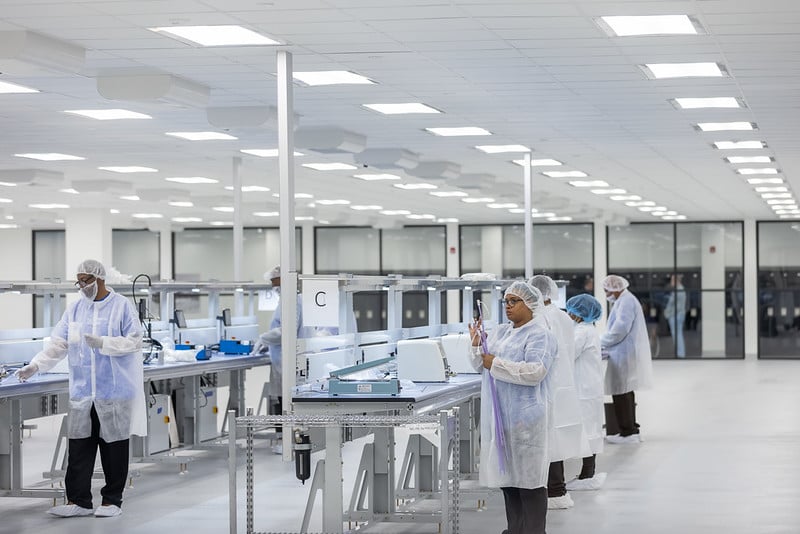 Employees will also have access to the wraparound services offered by Goodwill, from basic needs like housing, food, transportation, health and child care support, to more advanced needs, like job training, industry-recognized certifications, education, financial literacy and more.
This project touches on several facets of Goodwill's Strategic Plan: we identified a problem rooted in racial inequity, and we engaged the community to create collaborative partnerships that will have a significant impact on residents today as well as future generations.
Together, Cook and Goodwill are illustrating how we can do good business while also doing good in the community.
To learn more, visit: 38thandsheridan.com