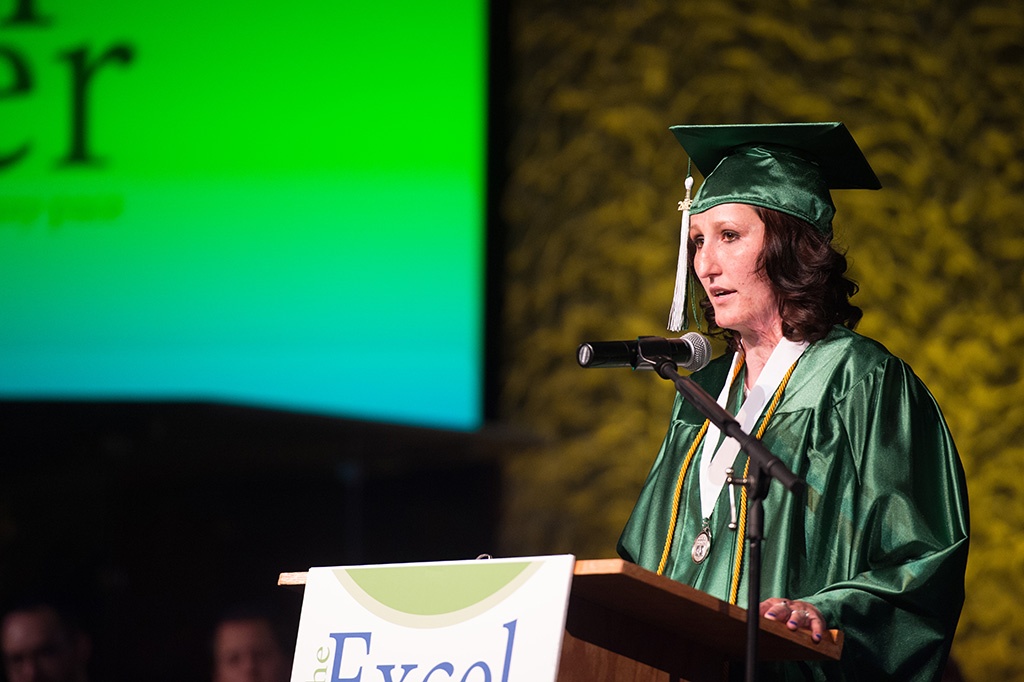 After becoming pregnant at a young age, Ashlee Roy dropped out of high school and thought her dreams were over. However, in 2015, she graduated from The Excel Center in Lafayette, earning her high school diploma. As a member of student council, she spoke at the graduation ceremony. The following are her words of encouragement to her classmates.

Have you ever felt like you were going nowhere in life? I know I have before I was informed of The Excel Center. My name is Ashlee Roy, and I am 24 years old; born in Lafayette, Indiana. Many might call me "a walking miracle." My life before coming to The Excel Center would be considered far from normal. I was in a life-threatening car accident, and I had to deal with the loss of two children. I became a very negative person at this point in my life, obviously because of what had happened to me. My car accident forced me to learn how to walk, talk and move my body again. I thought my dreams were over forever.
Before that, when I was only sixteen, I had dropped out of school due to an unexpected pregnancy. It changed my life at a very young age. I attempted to obtain my GED afterwards, but it was too time consuming with a newborn baby. Years passed and all-in-all I ended up with three beautiful children. However, taking care of my family and being disabled caused all my educational hopes and dreams to disappear. I feared that I would be stuck with minimum wage jobs the rest of my life. That all changed when I heard one radio commercial.
I was driving to the store one cold winter day when I heard an interesting commercial on the radio. Who knew this one commercial would change my life for the better and make my dreams come true? I can still hear the advertisement now... "The Excel Center: a second chance to get your high school diploma." On January 19, 2014, The Excel Center gave me a second chance to pursue my lifelong dreams. I was even more excited to know my children were just down the hall from me in the Drop In Center, which is not just a child care facility but a learning center. My little ones learned so much from these amazing, outstanding people, and it was all free. Because of the entire staff, I was finally able to go back to school.
When I first started at The Excel Center, I was so scared and nervous because here I am: twenty-four years old and trying complete high school. The second I walked through that set of glass double doors, though, I felt important. I felt like I was a "somebody," not just a mommy with no education. The staff is truly amazing. Every one of them are there for you through thick and thin, problem after problem. Even after that first day, I knew I was in the right place. My favorite thing about The Excel Center is that we are not just students; the teachers are not just teachers; and the child care providers are not just baby sitters. We are a family.
When it comes to my personal achievements, I am honored to say I was a member of the student council where we organized a Teacher Appreciation Day, helped with new student orientation and tried to keep the building clean. I am also proud to say that I was asked to return as a teacher's aide after I graduated. These tasks helped me decide my future career path as a high school graduate. My future plans as of right now are to attend Ivy Tech Community College to study Early Childhood Education.
In closing, I would love to share gratitude with all the families here tonight who are present in our everyday lives and who have also helped us go through this life-changing experience. Also, congratulations to my fellow graduates. I know at times we all leaned on each other to get through certain obstacles, but it was worth it. Finally, thanks to all of my Excel family for being who you are everyday, for putting me on the right path, and for giving us all that second chance! That one radio commercial, this one school, and this one family has changed my life and made my dreams come true.

--Ashlee Roy, Class of 2015
5/28/2015