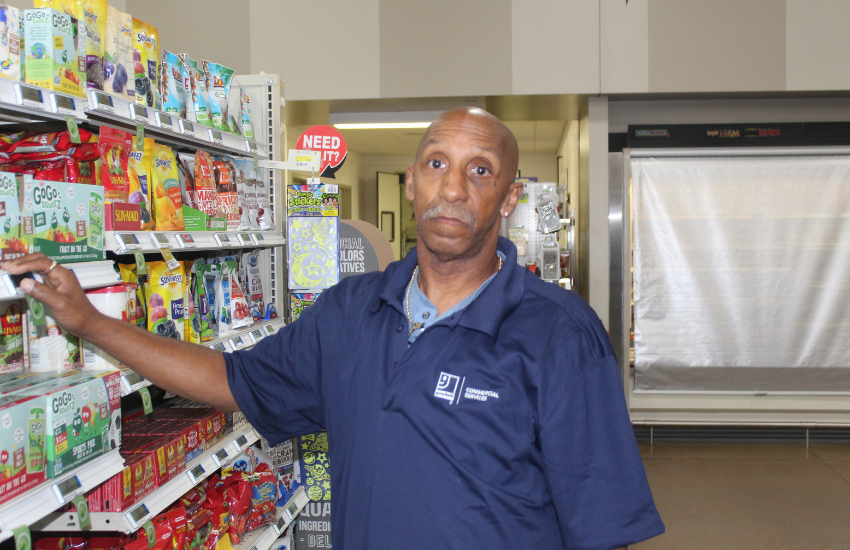 In honor of Veterans Day, Goodwill of Central & Southern Indiana would like to highlight Brian Reynolds, an Army National Guard veteran and Goodwill Commercial Services team member who currently works at the Harrison Village Commissary through the Goodwill Commercial Services AbilityOne program.
Brian served active duty in the Army National Guard for six years, stationed in Fort Gordon, Georgia and later Fort Harrison in Indianapolis. During his time in the National Guard, Brian was a wireman radio tester, where he would lay wire, repair communications equipment, and install, set up and reroute dialing equipment.
"Serving in the National Guard provided me structure and direction," said Brian. "It gave me all the things I needed at the time."
After he was discharged though, Brian had a difficult time transitioning to civilian life. Without the structure and direction he was used to, Brian made some poor decisions and got into some trouble.
"I was living a life 'in the streets'," said Brian. "I lived that lifestyle for a long period of my life. I had to make the decision that I didn't want that life anymore."
Two years ago, Brian began creating the life he wanted to live by reaching out to the Veterans Health Administration in Indianapolis and enrolling in their transitional work program as a supply assistant. In this role, Brian was tasked with fulfilling and delivering orders, as well as stocking and replenishing supplies. The combination of the hard and soft skills he gained in this role gave him the confidence and tools necessary to succeed in both his personal and professional life.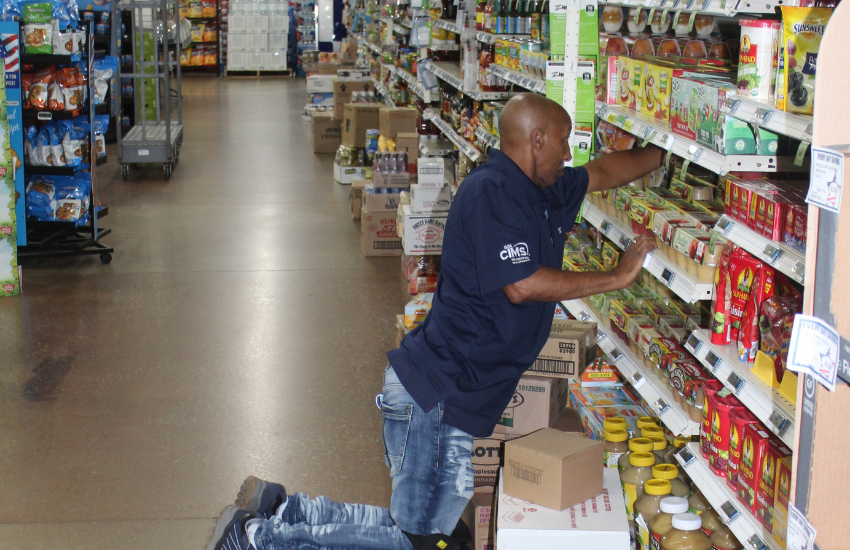 Brian excelled in his position with the program, so much so that his employment consultant felt that Brian was ready to transition into outside employment. They reached out to Goodwill's employee development and training (EDAT) program staff to see if there were any positions available in the Fort Harrison area, where Brian lived so that he could work closer to home.
There just so happened to be an open position managing inventory at the Harrison Village Commissary, a grocery store that serves the active duty service members, veterans and their families living in the Fort Harrison area. Brian's previous work experience, veteran status and connection to Fort Harrison aligned perfectly with the open position and he applied right away. He was offered the position the day after his interview and he happily accepted. Once he started his new role, Brian took well to his new responsibilities and was quick to learn all he could about his new role, making a positive impact on his coworkers and his supervisors.
"I love my coworkers and leadership staff," said Brian. "I look forward to coming in and working with the team. I joined the Goodwill Commercial Services team during a transitional period in my life and it's been instrumental in providing me with the positive change I needed."
During his time with Goodwill, Brian has also successfully transitioned from a group home to living independently. Through this new role, he's been able to find the structure and direction that he was previously missing.
"Working at the commissary keeps me grounded," said Brian. "This is where I need to be. I wouldn't trade my job for the world."