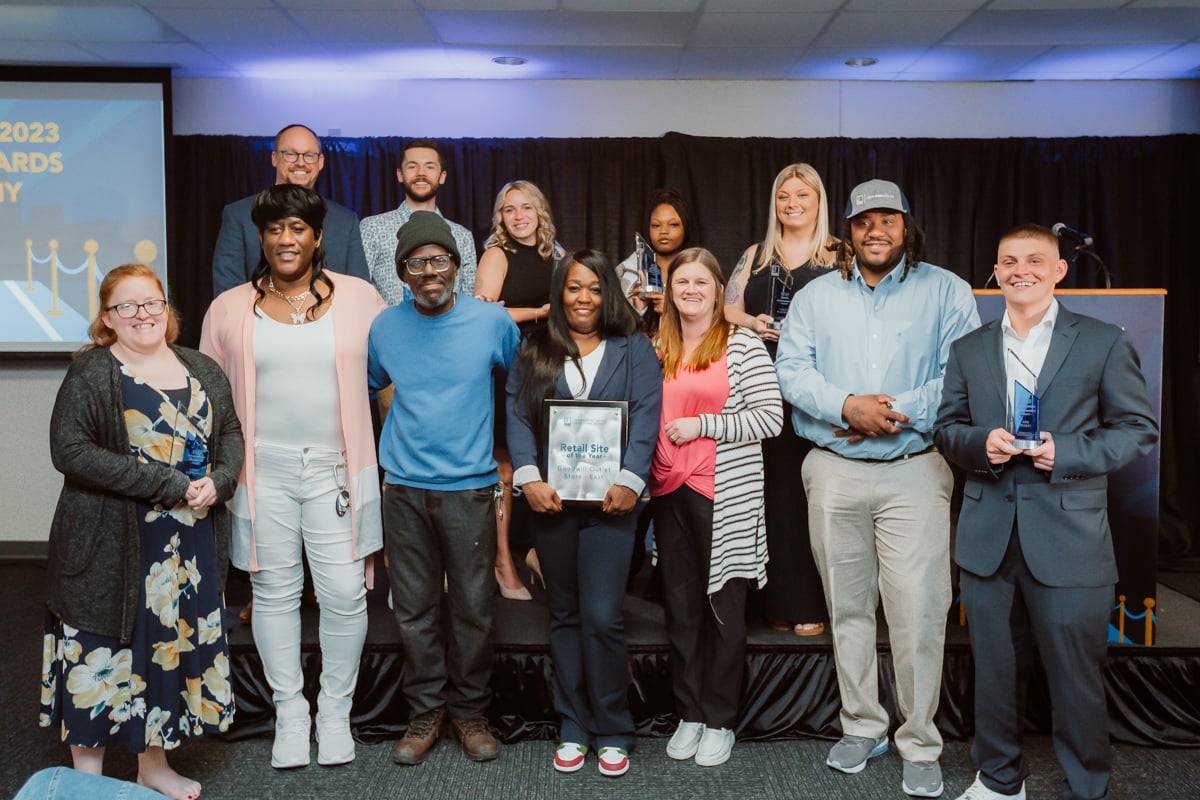 Each year, Goodwill celebrates some of the most extraordinary Hoosiers we serve through a ceremony that honors recipients across seven award categories. Eligible nominees include employees, students, program participants and community partners. When you donate and shop at Goodwill, you're empowering people in your community, like those whose stories you can watch below, so thank you for your support. Together we're changing lives!
Employment Achievement Award - Kris Bussey
When Kris joined Goodwill in October 2019 as a sales associate, she had been turned down for a job by 17 other employers due to her involvement with the criminal justice system, stemming from a long history of drug use. In just over two years, Kris worked her way up to site leader at the College Park store, where she prides herself on hiring and developing second-chance employees. She moved from work release to a sober living residence to now living on her own and purchasing her first car.
"I felt like an outcast, but over time, I learned that Goodwill was the only place where I fit in," Kris said.
Connections Award - KLR Pharmacy Technician Training School
At the age of 13, Katie Reigelsperger learned she was pregnant and withdrew from school to raise her child. For many years she worked low-wage, entry-level jobs with no benefits and little security. To improve her future prospects, she enrolled at The Excel Center, and in 2014, she earned her diploma (with honors) and a pharmacy technician certification. After several years as a pharmacy technician supervisor, Katie decided to start her own school, helping others earn their pharmacy technician certification. Her story came full circle when she was hired to teach the pharmacy technician certification course at The Excel Center in 2019.
"I am passionate about creating opportunities for students at The Excel Center as a result of my past experiences with the school," Katie said.
Health Achievement Award - Lacee McCorkle
Lacee was referred to Nurse-Family Partnership® by a community corrections officer after repeated encounters with the criminal justice system. She struggled with homelessness and drug use and described her situation as 'hopeless.' Now nearly five years sober, Lacee is married with three-year-old twins. She is pursuing a bachelor's degree while working as a Peer Recovery Specialist and also helped develop a weekly support group for women preparing to re-enter society after a period of incarceration.
"My kids not only changed my life – they saved my life," Lacee said.
Retail Site of the Year Award - Outlet East
The retail leadership team will honor Outlet East as its Retail Site of the Year due to its outstanding performance in 2022. Not only did Outlet East achieve its in-store sales goal two months early, but it also did so with an emphasis on the Goodwill mission. Well done, Outlet East!
Education Achievement Award - Dakota McLaughlin
Dakota enrolled at The Excel Center® after struggling with homelessness, drug use and intimate partner violence. After achieving sobriety, he knew that he wanted to help people who were coping with the same challenges that he did, and the first step in the journey was earning his high school diploma from The Excel Center. After graduating in 2021, Dakota enrolled at Ivy Tech, where he is pursuing an associate of science in criminal justice, with plans to earn a master's degree.
"What I've experienced does not define me; how I use my experience defines me," Dakota said.
Barbara Robinson Memorial Award - Sarah Schwartz
Sarah earned her bachelor's degree in education in 2014. While working in the math lab part-time at Indiana University Southeast, she also got a job at the Corydon Goodwill store to supplement her income, which is where she learned that Goodwill was opening a new Excel Center in Clarksville. She was eager to apply and became the first teacher hired at the new school. Sarah lives with muscular dystrophy and uses the opportunity to educate and inspire her students by discussing the challenges she faces and how she has overcome them.
"I'm an advocate for people who feel like they don't have a voice," Sarah said.
Indy Met High School Outstanding Student Achievement Award - Damiyah Lawrence
Damiyah enrolled at Indy Met High School during her freshman year, but when the COVID pandemic struck during her sophomore year, she struggled with virtual learning and was at risk of missing graduation with her peers if she didn't get back on track. She worked hard, got her grades up, and also earned a certified nurses aide credential, preparing her for life after graduation.
"I had a lot of teachers helping me with anything I needed, making sure I understood everything, and they were there every step of the way," Damiyah said.
Congratulations to all of our 2023 award nominees! Visit our website to view all seven videos in one place.