In May 2023, Madi LaFollette started working as a cashier in a Goodwill store in Carmel, Indiana. Within a month, the fresh addition to the Goodwill family became a valuable team member and an asset to the store's operations. She entered a welcoming work environment and gained teammates who were ready to support her.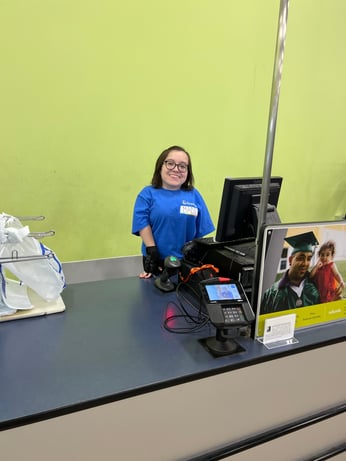 "I had a friend back in college, and he recommended working at Goodwill," said Madi. "He said that Goodwill is very helpful to people who have disabilities. So far it's lived up to my expectations."
Due to her disability, Madi is unable to reach some of the clothing and wares racks on the sales floor. However, she is able to lean on her co-workers for assistance.
"My co-workers are super nice and friendly," said Madi. "They help me when I need it – everyone is very accommodating."
In June 2023, store staff contacted the Goodwill facilities team to prepare accessibility accommodations for Madi. In two days, they installed a platform for Madi's cash register, providing her with a better transition between the sales floor and register. Madi was surprised by the effort to make her workplace more supportive, inclusive and accessible.
"When I first saw it, it was not what I was expecting – it was more than that," said Madi. "I've never had someone make sure I had the accommodations I needed. It was very generous – made me cry a little bit."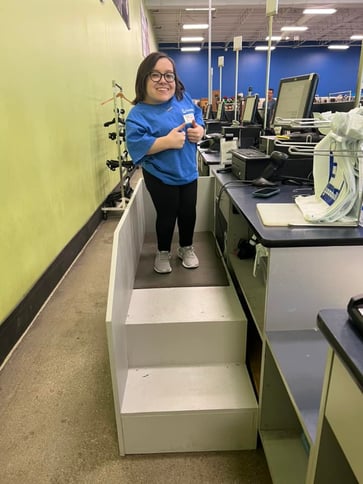 With her new platform installed, Madi has been able to check out and interact with customers more effectively – and it's quickly becoming one of her favorite parts about being a cashier. Because of her disability, social interaction had been a barrier for her. By working at Goodwill, Madi has had the opportunity to practice her skills and turn socialization into a passion.
"I like the people," said Madi. "I haven't been able to interact with many people growing up, so working at Goodwill has been a good opportunity. It's made me realize how much of a people-person I actually am."