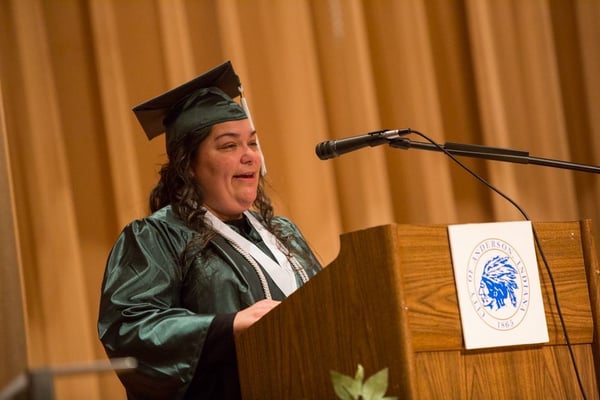 Martha Bess has always had a love of learning, but personal barriers prevented her from finishing high school as a teenager. She married at 14 years old and started her own family, which grew to include six children. Over 20 years later, she began working with her church's homeschool co-op, where her children attended, and soon discovered her own love of teaching. To advance her career and to continue to set a good example for her children, she knew she would need a high school diploma.
In 2017, Martha enrolled at The Excel Center®, Goodwill's high school for adults. She began by attending evening classes while continuing to work and support her family. With the help of instructors and coaches, she was able to find classes and a schedule that was flexible to her work and family commitments. In just 13 months, she earned her remaining 37 credits to graduate cum laude.
Currently, she is enrolled at Ivy Tech Community College and working toward her prerequisite classes with the goal of earning a bachelor's degree in math education. Martha's transition into college was made easier by the nine credits she earned in math, English and government while at The Excel Center. Working with her Goodwill Guide — a career and life coach — Martha was also awarded with a $3,000 scholarship through Goodwill that helped with her school expenses.
Seeing the benefit of earning her diploma, Martha inspired three of her children to enroll at The Excel Center — one of whom has already graduated.
"If you want to do it, you'll make a way. If you don't, you'll find an excuse," Martha said. "I wanted to make it, and I did."
To learn more about The Excel Center or our Goodwill Guides program, please visit: goodwillindy.org