Goodwill Nurse-Family Partnership® (NFP) pairs registered nurses with first-time parents for ongoing visits so they can provide the very best start for their children during the earliest, most developmentally critical years. Since its inception in 2011, 7,500 families have been served across Indiana – but how do NFP Nurses achieve such great success?
Amanda Hasecuster has been a NFP Nurse for nine years, working with families around Shelby County. She shared insights on Goodwill NFP's work and what the program looks like for the families she serves.
"NFP is centered around the nurse-client relationship, which is what I love most about the work I do," said Amanda. "I feel very honored to connect with parents who are in such a vulnerable yet exciting part of their lives."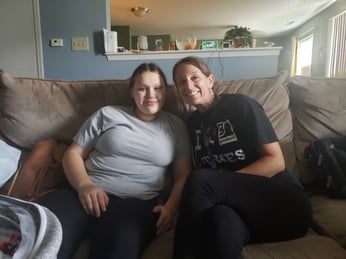 For Amanda, her typical day as a NFP Nurse involves three to four visits with first-time parents who are experiencing pregnancy, infancy or toddlerhood. However, since her work centers on the families she serves, their children and their needs, every visit can be different.
"My visits focus on addressing parents' concerns and prioritizing their needs," said Amanda. "They're the experts on their own lives."
These essentials are apparent when watching her engage with families. On this particular day, Amanda starts her morning at a local coffee shop visiting Madison, the mother of her nearly 2-year-old son.
"My relationship with my nurse has helped me tremendously," said Madison. "She's one of the only people I talk and vent to. She's always there for me."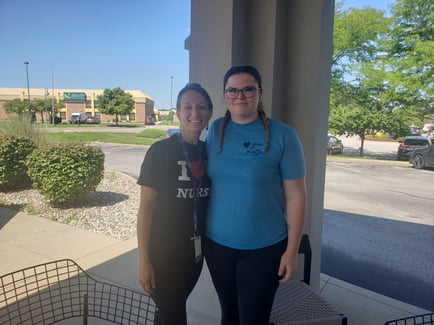 Together, they talk through current developments in Madison's life and her experiences as a first-time parent. Amanda offers support, reassurance and a listening ear. Many visits are supportive like this; however, Amanda can also conduct visits that are more focused on the family's physical health.
In the afternoon, she traveled to a nearby suburb and visited Elise, the mother of a 2-week-old infant. Since this was the first NFP visit after Elise gave birth to her child, Amanda thoroughly provided education on wet diapers, breastfeeding, sickness signs and recovery from a recent birth. Most importantly, she helps combat the new mother's anxieties about her baby's behavior and health.
"I don't know what I would do without Amanda," said Elise. "She answers all my questions and helps me worry less. All of our meetings are awesome."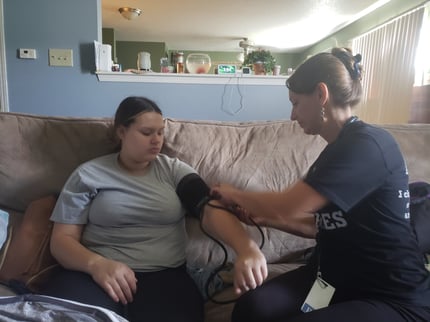 Amanda's families praise her abilities, but she still thinks that there's room for growth. She wants to become an International Board Certified Lactation Consultant and learn more about culturally competent care to build even better bonds with the families she serves.
"Many of the families I serve face barriers and have experienced traumas," said Amanda. "As an NFP nurse, I have a unique opportunity to support them in becoming confident parents who can advocate for themselves and their babies. I just want to be present, authentic and allow them the space to freely express themselves."