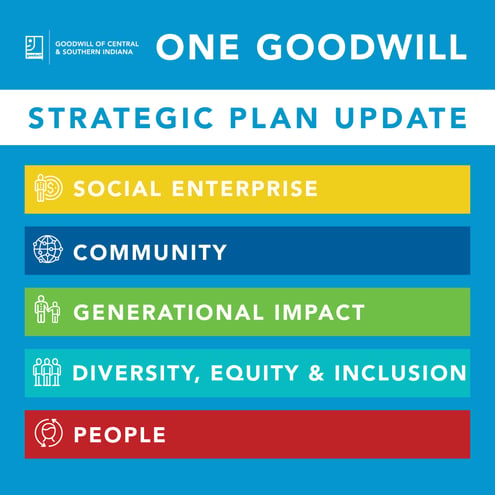 One year ago, Goodwill of Central & Southern Indiana launched its 2022-24 One Goodwill strategic plan, and we're proud to share some of the highlights after a year of collaborative work.
Operations: Our retail and commercial services divisions are on track to meet operating income goals by 2024. Retail will be opening two new stores this year, and AbilityOne will be adding base wide cleaning to NSA Crane to our operational portfolio.
Future of Work:
We recently formalized our partnership with
Per Scholas
, an evidence-based IT
training program, which will launch its first free Indianapolis training cohort this month to
provide support to individuals with a high school diploma who want increased economic mobility. Per Scholas advances economic equity through training for tech careers and connects skilled talent to leading businesses. They are sharing space at Goodwill's corporate campus on Michigan Street.
Mental Health: We recently rolled out 15 free mental health sessions for all employees, as well as their spouses and dependents, as part of our benefits package.
Philanthropy: The Goodwill Foundation exceeded its 2022 Annual Fund goal and is on track to meet its strategic plan goal as well. These funds support the mission work across the organization.
Diversity: Thanks to work done by our finance team, we have identified our XBE vendors. Currently we have 61 vendors that identify as XBE and will work to increase this number to ensure we are providing equitable access to bid on our various projects. All job profiles are being reviewed and updated to reflect, where possible, the skills and competency needed to complete the role.
We will continue to be excellent stewards of your donations by finding effective and innovative ways to serve Hoosiers. When you donate and shop at Goodwill, you're changing lives.