After nearly two years of working at Ann & Robert H. Lurie Children's Hospital of Chicago, Liz Brockland, RN, BSN, felt a need to increase her influence with patients. She thought she could have greater impact working one-on-one with people in a proactive way to prevent major health issues.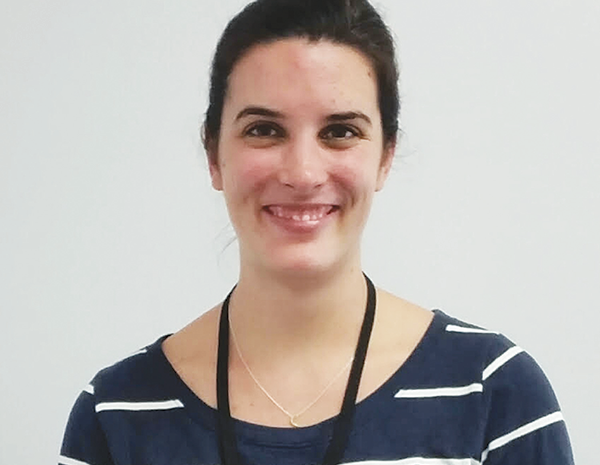 When a friend shared a New York Times article about Nurse-Family Partnership, Liz knew it was the right program for her to help change lives. She connected with NFP's National Service Office and learned that NFP Indiana was expanding to Lake County — just outside of Chicago where Liz lives.
Her journey into public health began many years before when Liz spent time abroad volunteering with children in South Africa and the Dominican Republic. While there she spent her days developing relationships with families and teaching children to read and write and felt her calling to the nursing profession. She had graduated the summer before with a bachelor's in English, so when she returned to the U.S., she began to pursue a bachelor of science in nursing. Her previous work paved the way for her work with NFP now.
"There are many doctors and people in the community who do not understand what NFP is and its value," Liz said. "I spend a lot of time building relationships and educating people on how our support benefits our clients."
Liz approaches clients where they are in life, knowing each has unique challenges and goals. One mom has a serious physical impairment. Liz works with her and her boyfriend to prepare them for assessing cues from their infant and using best parenting practices, making suggestions to encourage the mother's independence.
"Working with a person with this type of impairment was a new experience for me," Liz said. "I was a little overwhelmed at first, but they are highly independent and motivated parents. Our work together is calming for them, and it's preparing them to care for their baby."
Another client is a young, single mother in her second trimester of pregnancy. Liz assists her in making healthy decisions that will ensure the health of her child. Often, Liz finds herself affirming what her client is thinking.
"Sometimes moms need to have assurance that they are making good choices for their child," Liz said. "Many of them are doing a lot right but just need more guidance or resources to help them along the way."
When not meeting with clients, Liz and the team work to expand their services, referral partners and client base. Liz was the first NFP nurse-home visitor in Lake County, and the team has grown to four nurses.
"I'm excited to continue building our team," Liz said. "We all have diverse backgrounds and strong passions for this work. We're off to a great start."
Know a nurse who would be interested in working for Nurse-Family Partnership? Our Lake County office is hiring, learn more and apply online today.