Disability Services at Goodwill of Central and Southern Indiana helps Hoosiers find employment within Goodwill and outside agencies. Through programs such as Vocational Rehabilitation and Follow-Along Services, Goodwill works hard to provide the best possible work environment for individuals with disabilities and barriers. Disability Services is designed to make the transition into the workforce as seamless as possible, by offering a variety of accommodations.
This summer volunteering as a donation attendant at one of the Goodwill Donation Centers, Eric Powell was first referred to Disability Services through the Vocational Rehabilitation program. Eric paired up with Employment Advisor, June Hennegan, who assisted Eric in his job application process. Before he secured his current position, they explored other options.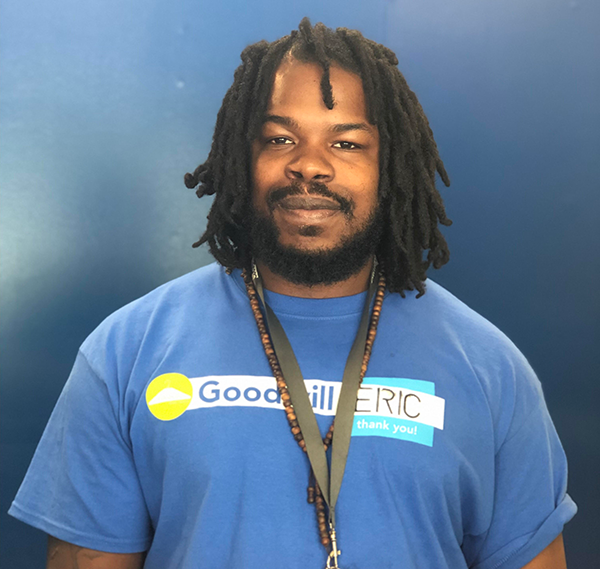 "Eric wanted a job and to earn a paycheck," June said. "As we worked together, I stressed the importance of finding the right job for him."
Driven by the desire to find a job, Eric volunteered with different employers hoping to find the perfect position. He volunteered at his current job site for a month before he was officially hired. Since being hired, he has shown up to work on time each day, ready to service customers. His selflessness is admired and appreciated by those in Disability Services.
"Eric worked extremely hard to get to where he is now," June said. "He didn't have to agree to volunteer at the donation center before getting hired and he still chose to anyway."
Eric is thankful for the support he has received from Disability Services. June and her co-workers have consistently reached out to Eric during his journey. They continue to check on him and assist him with anything he needs. He also credits his first boss, Joe Minker, for taking a chance on him and treating him "like a whole person, not just like someone with a disability."
"They support me by checking up on me even though I have a job now," Eric said. "I'm still a work in progress."
Eric is settled into his position and he is focused on working hard and saving money. He has also returned to school and is studying to earn his high school diploma. After graduation, Eric hopes to own his own business one day.
Disability Services provides access to appropriate resources for those with special needs while ensuring that every employee is treated equally in the workplace. For more information visit the Disability Services website.