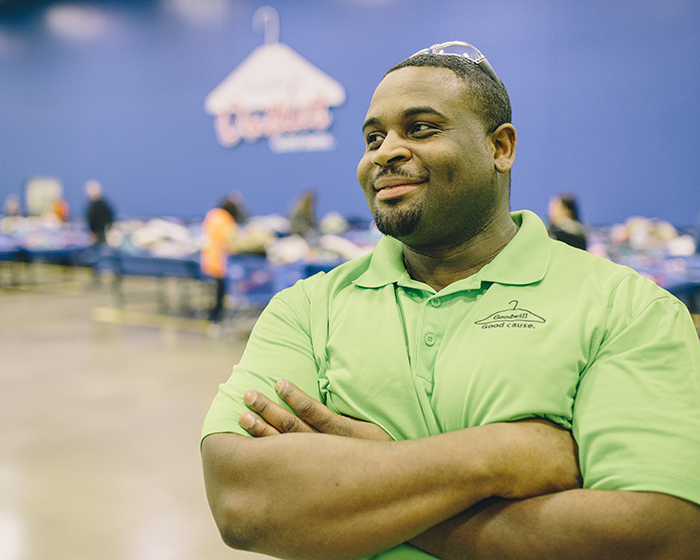 Individuals who were recently incarcerated face a number of challenges reentering society. Primary among them are limited job opportunities.
"Nobody wants to hire you once you're involved with the criminal justice system," said Jeremiah Davis, who joined Goodwill in 2011 after being incarcerated.
Jeremiah was first hired for a temporary, third-shift position at the retail outlet on the north side of Indianapolis, and he consistently outperformed his peers in production and quality.
"Jeremiah exhibited extraordinary work ethic, which quickly set him apart," said Lakeysha Hamilton, Goodwill's Director of Outlets and Transportation.
After his temporary position ended, Jeremiah contacted Goodwill daily about job opportunities, seizing the moment when one became available.
"I didn't know a lot about Goodwill, but they were the first company to give me a chance, and I promised that I wouldn't waste it," said Jeremiah. "Once I was exposed to the culture, I learned that they care about my well-being. I began to see possibilities."
Jeremiah's dedication was rewarded with several promotions and his superior leadership skills earned him the role of Southside Outlet Manager where he is currently responsible for more than 80 employees – 75% of whom face a barrier to employment including criminal history, disability or lack of a high school diploma.
"What I enjoy most about my role is that I have a direct impact on the mission of helping people overcome their challenges," said Jeremiah.
Jeremiah continuously strives to learn and grow, but his sincere interest in helping others illustrates how he extends his influence. He actively encourages employees to pursue their own development and leads by example, often referencing his own experiences as proof that barriers can be overcome.
"I can relate to many employees, be a testimonial for them on what is possible and help prepare them for success," said Jeremiah.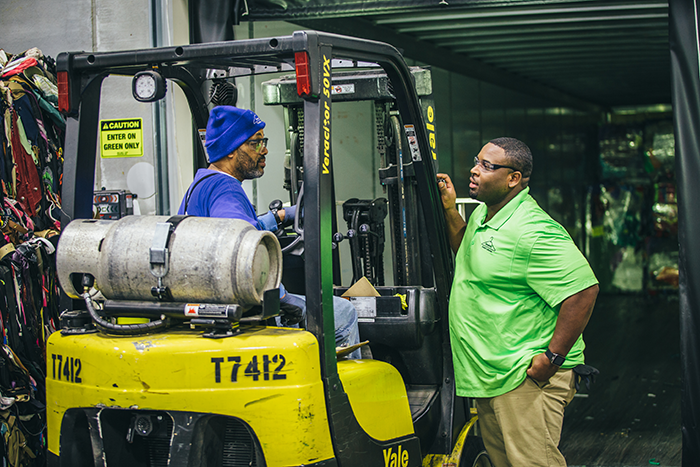 He credits the opportunities he has been afforded through Goodwill to a change in mindset that encourages him to set bigger goals.
"I used to be afraid to fail, so I would only take on tasks I knew I could succeed at," said Jeremiah. "But now, I view failure as a learning experience."
Jeremiah plans to go to college to earn a business degree and hopes to put it to use at Goodwill.
"I want to be an example to my children and show them that you can overcome your barriers," said Jeremiah.